Most Wonderful Readers who have been following know that we recently experienced roof and ceiling damage due to a severe Houston storm one month ago. I am happy and grateful to say that last night, our trusty contractor completed two days of construction on a new roof, attic work, and ceiling repair.
After bedtime, we put back together the play area, and it looks as though nothing ever happened. As I slid a box of wooden building blocks under the armoire, I was reminded that we can always rebuild when things get knocked down. And, it is the simplest toys like those blocks that bring the greatest joy.
We laugh at the thought that we used to keep Baby #1's toys in a small decorative basket on the couch. When the collection became too big, we added a small chest. Then a bookshelf. Then baskets to organize the shelves. Then an armoire when our ever-expanding book collection crowded out the toys. Now the books and toys define the purpose of the room we thought would be great for entertaining.
We have often marveled at, fretted over, and felt guilty about the immense expanse of toys that our children own. They seem to have every toy under the sun, but every birthday and Christmas proves us wrong with rarely a duplicate of any kind from Santa, grandparents, aunties, uncles, and friends.
We involve the children in the process of collecting and donating unneeded toys. With three stair-step babies who spend most of the week at home, we have not truly outgrown many toys so far. Yet, there are always ways to narrow and simplify the collection, especially when we remember many children have so very little.
We also introduce our children to homemade playthings as alternatives to manufactured toys. Especially during summer break, these simple yet creative centers and projects help the children fill each day with engaging activities.
I would like to share our favorite—the pom pom sensory bin. We introduced it almost nine months ago, and it is still the most popular "toy" in the playroom.
Pom Pom Sensory Bin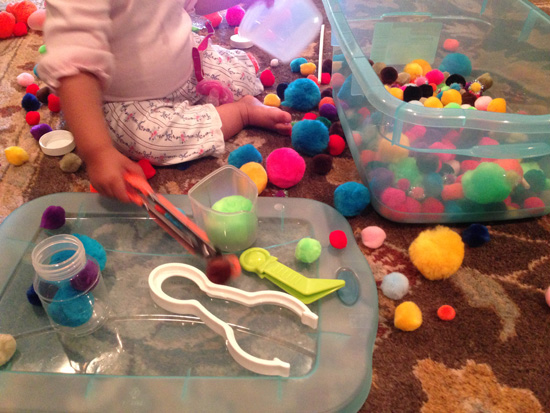 This is the simplest toy that is endlessly enjoyed by children of any age, including us parents.
Materials:
Pom poms of all shapes, colors, sizes, and textures
A bin with a lid
Containers of all shapes and sizes, with and without lids
Tongs, tweezers, chopsticks, grabbers, and spoons of all types and sizes
The first time you introduce this bin, little instruction is required. Your child will surely be delighted and occupied on his/her own.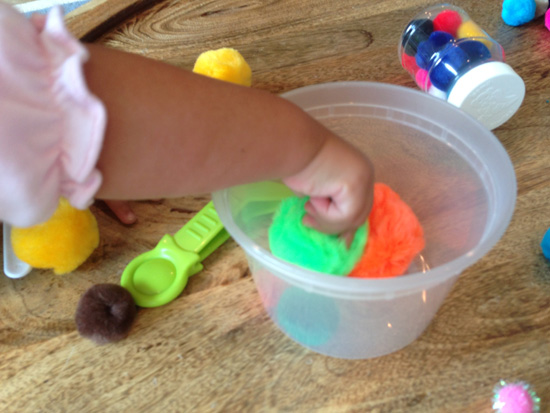 As time passes, keep the bin intriguing with variations and games:
How many pom poms of a certain size can you stuff into a container (vary the container and pom pom size)? Set a timer.
Sort pom poms by color, texture, and size.
Practice fine motor skills using utensils to transfer pom poms between containers.
Change the color theme for holidays, such as red, white, and blue for Fourth of July, or white, green, and red for Christmas.
Create patterns by color, texture, and size.
Ask children to select only a particular color, such as orange for Halloween.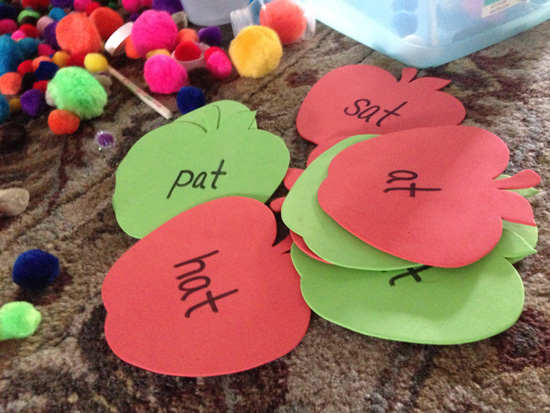 Get creative with low-tech extension activities, such as games to introduce word patterns. Word families that share rhyming letter patterns help early readers decode words and expand reading vocabulary.
We enjoy using colorful foam shapes with handwritten word families, such as -am, -an, -at, -en, -et, -ig, -ing, -op, -or, -ox, -ug, and -un words. Place them in a pattern of the floor and invent games to identify the words. Over time, add the names of family members and common sight words.
What simple homemade and interactive activities do you enjoy with your child to develop a range of skills, including fine-motor, sorting, patterns, sight words, etc.? Let's chat in the Comments below.
I am so happy you are here. Don't miss future articles! Be sure to sign up for our RSS feed. Let's be friends on Facebook too!