It is 6:30 p.m. on Wednesday. The children have reminded us it is Taco Wednesday.
We had the friendly pest control guy here this evening to spray outside for some ant trails along the driveway. I did not have time to prepare for what is usually a fun night in the kitchen.
Although Daddy is planning to sneak Baby #1 out of bed to watch the Rockets playoff game for a little while on TV, we do not want another late night for our little girls this week.
We decide to drive across Stella Link Road to order tacos at the restaurant counter in La Michoacana Meat Market.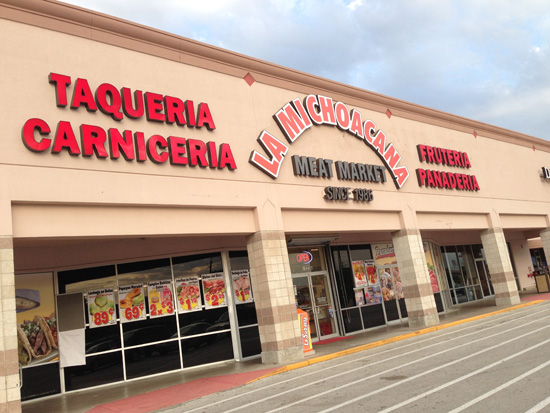 As Daddy orders and pays at the register with Baby #3, Baby #1 and Baby #2 come with me to find a table. We will sit at the one we sat at the first time we visited here just after the grand opening.
We turn the corner around the last aisle of groceries. The children leap toward the green cartons of Sonrisa Mango Nectar with pictures of orange mangoes on the shelf at their eye level.
"Can we have some? We haven't had mango juice in a while, Momma!" says Baby #1 holding up a carton with his little sister eagerly nodding beside him.
I stop still, startled by a familiar face. The lady standing on the corner is sitting at the third bench-style table—the table we sat at last time.
We both gasp and then smile. I had not seen her this afternoon like I normally do on Wednesdays on the way home from Day School pickup.
A big half-eaten burrito with beans and guacamole sits on a sheet of foil on a white Styrofoam plate. She sets down her white plastic cutlery as if she is dining at a much fancier place.
"Hi-ii, I was just thinkin' about you Baby Girl because I made somethin' for you-u." For the first time, I notice she has a slight southern accent, but not quite a Texan drawl.
My right hand finds my chest. I whisper, "Oh my goodness—"
"I just remember you because of your smile and your beautiful bay-bees. Thank you so much for everythin' you have done to help me so mu-uch. I just look at every car as it passes and ask God to watch over them. I say that when you pass by with your bay-bees. I remember your concern for me. "
Concern.
I am speechless, but she is bubbling.
"This burrito is so big. It is only three dollars. You can put anythin' in it—meat, all the vegetables, beans, guacamole. You could cut it up and feed all a you-u!"
I remember the question I have been wishing to ask all this time. "What is your name?"
As I share my own name in return, she repeats it after me and nods to herself.
I wonder what her name means. Something strong, I'm sure.
"Anyway, what I made is like somethin' you might put in your garr-den. I made it in my art class. It is a piece of granite," she says as she measures out about 18 inches on the laminate wood tabletop.
"You could put it in your garr-den or somethin' like that. I made it but it came out too faint to sell. But I thought of you because it has a quote. Some people come into your life….No wait. Some people come into your life and quickly go. Others stay for a while, and leave footprints in your heart…Somethin' like that."
I notice her left hand tracing paths across the tabletop.
"Wow, that is very kind of you—" I begin to say. I know which quote she means, but I can never remember the exact words either.
"My son is graduatin' this year from college."
"Yes, I remember you telling me that. Congratulations, you must be very proud of him."
"I am. I had him out of wedlock, and I just prayed that the Lord would make my bay-bee's dreams God's dreams—that is what I can give to you. Just pray that your bay-bee's dreams are God's dreams."
"That is beautiful. Thank you—"
"I am startin' over at 59. I am the product of two hurricanes. I raised him in New Orleans by myself until then. I was four or five paychecks away from being homeless. I left him in Port Arthur with the family of the boy he played T-ball with ever since he was five years old. I wanted him to stay there and finish school because he was a junior in high school."
"It is wonderful that you had people like family."
"They are family. And he is 23 years old and graduatin' and I just hope I can make it there to see him."
I ask her son's name. She tells me it means warrior.
"God named him. I had him out of wedlock later in life. I was in church and just prayin'. A woman stood up and was preachin' about how God said he shall not forsake you.
I remembered Moses and went home to my Bible and opened Joshua. As I was with Moses, so I will be with you; I will never leave you nor forsake you. I prayed that God would lead him and be his Father."
She pauses and watches the children dangling and twirling around my arms and legs.
"What are their names?" she smiles.
I share the children's names and meanings. She smiles again, "From the Bible—"
She pauses and says, "I will be there tomorrow, and I can give you what I made you. What time could you meet?"
***
It is Friday and I have had bills instead of change in the coin holder for two days. As I approach the intersection on the way home from Day School pickup, the traffic light is turning green and cars begin to move forward.
I slow down a bit trying to time a red light, but see in the rearview mirror a car is approaching behind me. Four cars turn left under the overpass. The light turns yellow as I roll down my window.
"Oh, good, you have a red light," she says looking at the light turning again. "I just put it away," she says. "I didn't see you yesterday."
"I know, I'm sorry. I saw your jacket hanging there, but I think we were a bit earlier than I thought we would be."
"Oh, I must have gone to get a taco or somethin'. Let me get it for you," she says and turns to run-walk toward the street lamppost where her black bag is hanging with her gray jacket.
As she hands me the long, narrow piece of pinkish granite, my hands drop under its weight. Her quote is written in black permanent marker, indented to the right of the piece. I love her handwriting.
"What would you normally sell this piece for? I would like to pay you for it."
"Oh it is hit 'n miss….But it is a gift."
When I looked up her name after returning home on Wednesday night, the Web site entry said it is of Latin origin and means woods, forest.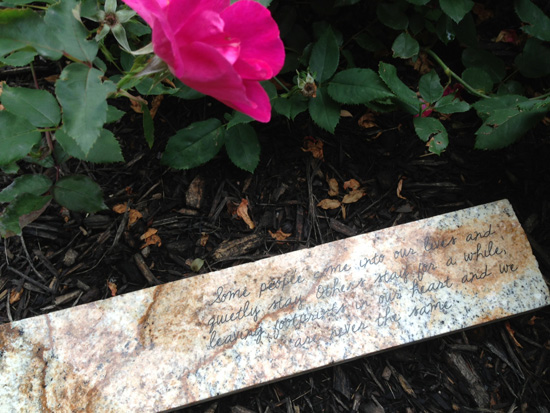 ***
The next day, Houston was hit by storms again. We found ourselves in our minivan on the way home from Costco in the waters. We felt a particular kind of fear in our hearts to see the water rising and rushing around us—not knowing how bad it would get. All three babies in the back seat.
Along with all Houstonians, this was not the first time we had run from threatening storms or been stranded in the middle.
So many cars were on the road. The local meteorologists had mentioned rain, but we must not have been alone in thinking a few raincoats would be sufficient.
Training. That is what our meteorologists call this pattern of successive thunderstorms that slowly pass over our city, overwhelming street drains and bayous.
Like all of the cars in front of and behind us, we ran into bad waters at every turn along side streets and into neighborhoods.
After Costco, we had thought to pick up burritos for the children. First they ate and then they slept when we gently declared it was quiet time.
Having tediously made our way down Weslayan Street past where it becomes Stella Link Road, we sat in the minivan just outside of our old neighborhood—Daddy's childhood neighborhood—still, silent, and scared.
Minutes seemed to be ticking by in increments of twenty as dusk approached.
A man appeared in bare feet at the edge of the neighborhood wearing a white undershirt and khaki cargo shorts. After briefly surveying the situation, he retreated back into his corner house only to reappear moments later with an umbrella and galoshes.
As he waded out into the water, it seemed as though he was following standard operating procedures. We could tell he was cautioning everyone not to test the waters on the lanes going the other way on Stella Link Road back toward our house.
He approached our minivan and motioned for us to roll down our window.
"Pull up here," he said pointing to a slightly higher dry spot about as big as our minivan. "Put on your hazards, so no one hits you from behind."
He was right, we had seen a few full-sized pickup trucks and Hummers speed through the area.
Looking at the Weather.com app on our iPhones around 6:00 p.m., we could see that there would be no change until after midnight.
We could drive through high waters and risk possibly higher water levels in the neighborhood. Or wait for the water to recede where we were and risk possibly carrying three young children through high waters after dark.
When a compact red pickup truck emerged from the neighborhood, we decided to drive. As we passed the house of the man in the galoshes, the red Check Emissions System dashboard warning light turned on.
We held our breath along the familiar streets of our old flooded neighborhood. Instead of turning onto our old street, we reached Grandma and Grandpa's street—it was clear.
The waters were down only on this street, so a steady stream of cars was spilling in from the highway frontage road that separates our old and new neighborhoods.
A few hours later, the children awoke. We checked to ensure the waters had receded before driving past all the stranded cars scattered along our familiar route home.
Bedtime brought a gentle sigh of gratitude that echoed in our special prayers.
On our way to survey the usual garage flooding, we heard a steady light clicking sound. It was water hitting the tile floor in the extension of our 1960's home.
As we moved furniture, rugs, and toys, we heard more clicks of water dripping—enough for six buckets and oversized pots positioned across the room where our children play.
Daddy had sold his Rockets playoff tickets for tonight while we were waiting out the storm at his parents' house. He had planned to surprise Baby #1.
After watching the hometown team's season end on TV, we saw Facebook updates from friends with their own harrowing stories with water, hail, and wind. We fell asleep grateful to hear that all made it home in the end.
***
It is a new day, and we are awake early this Sunday. Today is Corpus Christi Catholic Church's annual Spring Fling—a festival celebrated almost like a Holy day by the entire parish. We have gone every year since Baby #1 was born and I wore him in a papoose.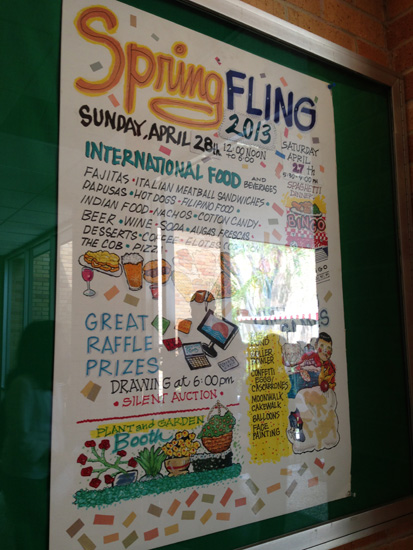 It is a day for putting sisters in matching dresses. It is a day for sharing traditional foods like Salvadoran pupusas, Filipino egg rolls and pancit noodle dishes, carnival nachos with jalapeños, and fresh lemon and watermelon agua frescas, best enjoyed together through two straws.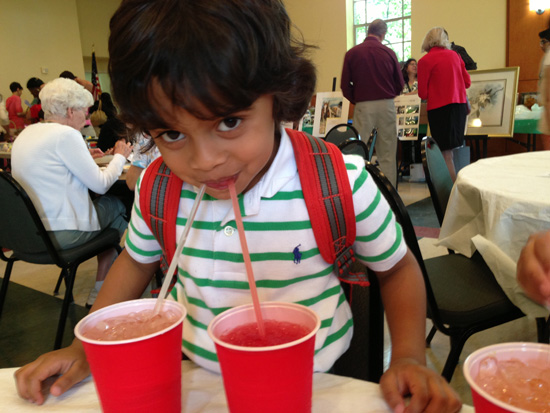 It is a day when all the little children smile from ear to ear through cake walks to the song We Are Family, face painting, ring toss to win a two-liter bottle of sugary soda, and good times with friends.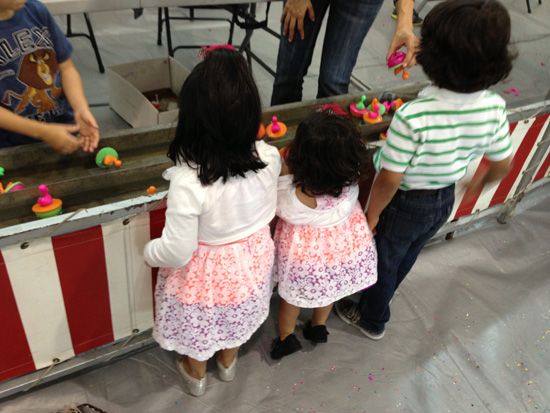 This particular day is the day after the storm in Houston. A muggy 89 degrees. The skies are blue and decorated with wisps of white clouds.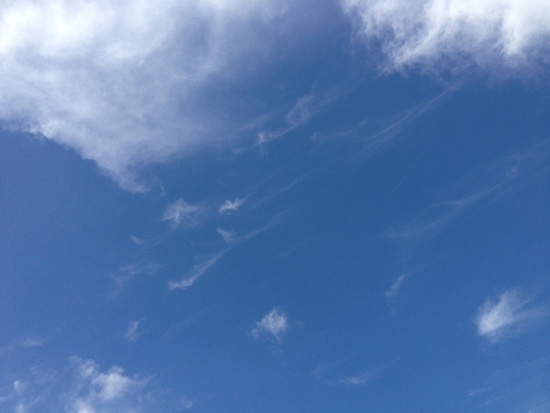 Because of the still saturated church grounds, this year all of the festivities except for the grilling are being held inside the gym, cafeteria, and back music room.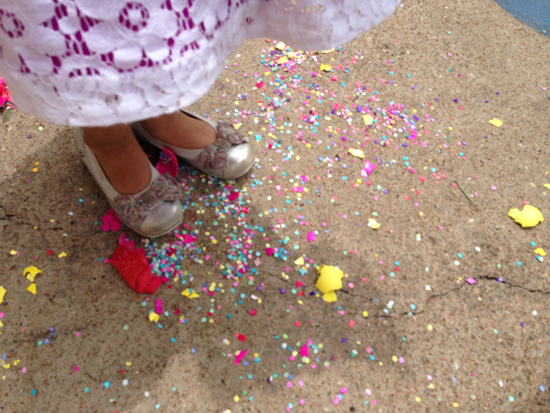 As we say our goodbyes, a favorite Uncle gives the children some of his too many tickets to buy a dozen cascarónes. The confetti at their feet and in their hair reminds me of growing up near San Antonio.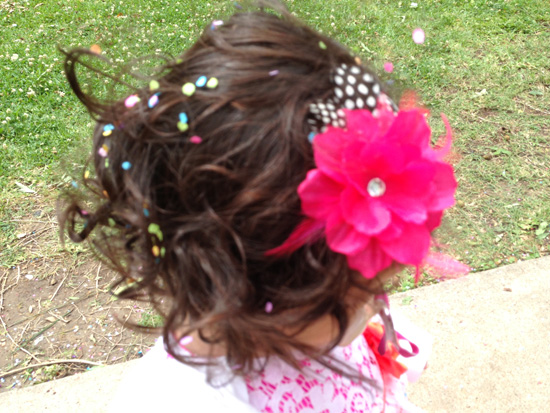 It is the kind of great day that ends with untucked polos and skipping to the car.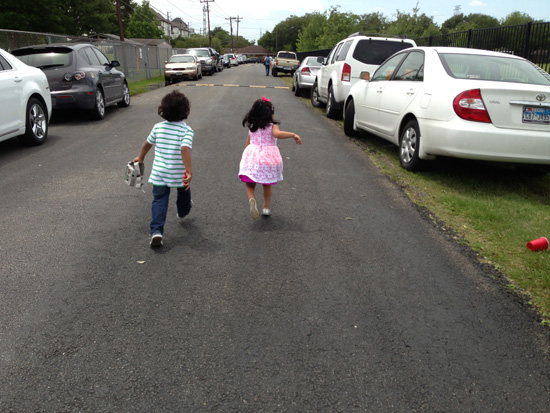 On the short drive home from church, we stop at the highway intersection. The lady is standing on the corner. Daddy rolls down the window, and I hand him the tacos we purchased with our too many extra tickets.
***
It is Wednesday, and Baby #3 and I leave for Day School pick up forty-five minutes early. We are driving down Stella Link Road on the way to Costco. I need to pick up photos for one of the first Pinterest projects I might actually complete—our teachers' class gifts.
Tomorrow is the last day of Day School. I can hardly believe the school year is ending and elementary school is just one summer away.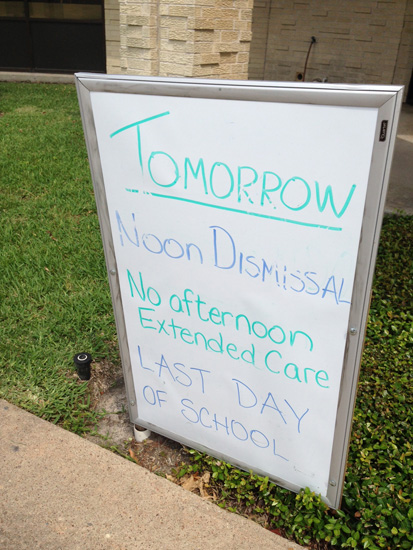 A few weeks ago, on the night before the Spring Program, reality hit Baby #1—this was his last year of Day School and his last performance with his friends and teachers.
Even if only to me, his tender heart always shows. We both teared up during an episode of So You Think You Can Dance last week when a girl told a story about how her mother sacrificed for her to succeed as a dancer. I hope he always cries during these graduation-slideshow-like moments.
Day School has been an answered prayer—to release our son into the arms of teachers and staff that became friends who treat us like family. To see him grow and thrive through these important early years. To see him help his little sister find a place of her own at big brother's school. To see these two siblings become best friends.
One day not too far from now, our only son and our first girl will go out into a much bigger world and realize they are not going to get married and raise baby sister as their own.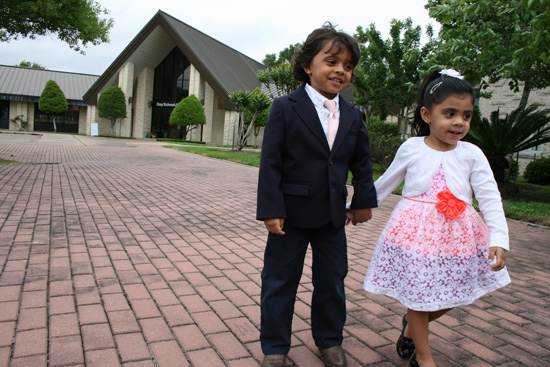 As I continue past where Stella Link Road turns into Weslayan Street on the way to Costco, our Top 40 radio station begins playing Adele's Set Fire to the Rain.
The rain. 

Only a few weeks ago, our family was stranded on this street on our way home from Costco in a thunderstorm of rain, hail, and lightning. Weslayan was a rushing river rising. We prefer this route to Costco because we can avoid the treacherous interchange between US-59 and I-610, especially with babies in the car.
After that storm, we are grateful that we could leave our Grandma and Grandpa safely in their home and return to lay our babies down to sleep in their beds that night. We are grateful that we will soon have a new roof, repaired ceiling, mopped floors, and a room with plenty of space to play. We are grateful our storm wary dog Jesse is just fine.
Even if all of our belongings are lost tomorrow, we will always have faith, hope, and love.
After Day School, we have been doing a little more hugging lately. It makes us all let go of any little worry in the day, and I plan to do it for as long as they let me. I sit on the floor cross-legged and we hug and rock as I sing:
You are my sunshine
My only sunshine
You make me happy
When skies are gray
You'll never know dear
How much I love you
Please don't take my sunshine away
***
This special group of children has been together since they were two years old—still crying at drop off, wearing diapers, barely talking, and venturing into parallel play with peers.
This year as they walked the tightrope between preschool and kindergarten, there were many scares that made them hold onto each other tighter.
At various levels of awareness, they all experienced the grief that surrounds so many of the things we wish so desperately to shield them from.
The grandparents in the hospital, best friends moving away, loss of a family pet, frightening images of weather and fire on the news, serious illness of a parent, and then one of their own dear friends. Their resilience astounds me.
I know my son felt all of these things in the deepest sort of way. He was born with a tender heart, and we do all that we can to help him hold on to the natural empathy that resides in his soul.
The type of soul that weeps for the world.
Navigating little hearts through fear, pain, and grief is one of the most heartbreaking and humbling responsibilities as a parent.
In an amazing way, our work is made easier by our son himself. This afternoon as we sat on Baby #1's bed and reminisced over the year's artwork, name tags, handwriting practice, and journals, our son silently reminded me again that it will all be okay.
I flipped through the pages of the composition book his teacher says he chose to write and draw in on his own every day. There were rainbows on almost every page.
Rainbows that looked like rainbows. Rainbows across the petals of  flowers. Rainbow scribbles. A jack-o-lantern under a rainbow. Rainbow numbers. Rainbows in lines across the ruling of the paper. Rainbow M&M candies. Rainbows over houses.
On the last two pages of rainbow artwork, the teacher had written his dictated words: a beautiful butterfly house with pretty clouds and sun. The next page was colored solid and simply named: rainbow lines.
I have seen these rainbows in the abundance of artwork he has brought home daily. I simply had no idea of the hundreds of rainbows I had missed and that were waiting for me to behold in his private journal.
One special rainbow piece had hung on our fridge for most of the school year. He described it as a picture of himself and his sisters in our house under a rainbow and nice clouds.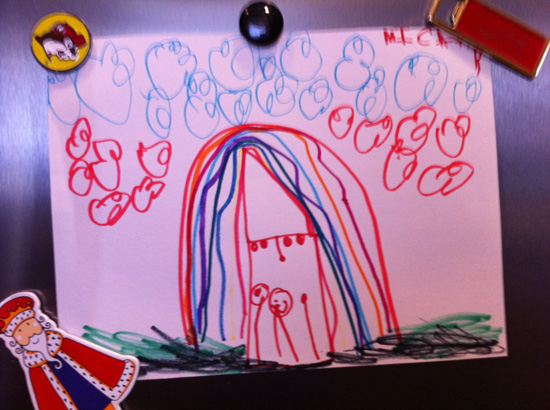 As parents, we worry that we make mistakes and fail on a daily basis. Yet, it is amazing when our children reflect back to us the picture of our family.
The last page in his folder was his first homework assignment, which we completed together at his little red table by the window during the first week of school. For a question about family rules, he responded simply, "Be nice, and stay together." So those are the words I had written in the all-caps handwriting I use for school forms and with my red permanent marker.
***
Our family and our neighbors have known big storms and hurricanes but nothing like the EF5 tornado that left a 17-mile-long path of total devastation in Moore, Oklahoma and untold wounds in the hearts of its people only a few days ago.
As I sat down in my office to work this night, two nights after the storm, I saw a link to a news report about a hug between two neighbors in Moore. One little boy. One big man. From different families and different backgrounds. Two favorite neighbors. With the nicknames Big Dog and Little Dog.
The boy had expected to see his parents first after emerging from his demolished elementary school. He was overcome when he saw his big friend—a first responder arriving on the scene—who immediately lifted and embraced him in a priceless hug.
We always have everything we need when we have the things that endure forever—faith, hope, and love. May our unyielding belief in all of these lead us to God's gifts of grace, mercy, and peace.
God bless Moore, OK and the neighbors who love them like family.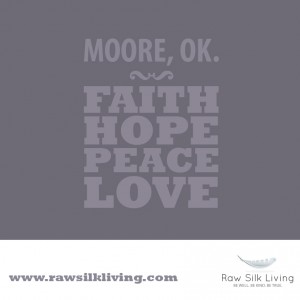 ***
Children go looking for rainbows
They love rainbows
They are expecting to find rainbows
And they do find rainbows everywhere they go
If they have been missing rainbows
They create rainbows
Delighting every time in rainbows
Inviting their rainbows to come inside and play
I see a rainbow!
In my puzzle
In my Play Dough and Lego blocks
I see one bouncing in the light
Coming through the window
In the drawing my friend gave me
I make rainbows in quite a few of mine too
The best place to draw my family is in our home under a rainbow           
(Rainbows, a poem by Sarah Nalini Joseph, April 19, 2013)
***
Yesterday at 12:15 p.m., after many hugs and tears, we walked away from our beloved Day School. Baby #1 wanted to walk behind us.
He usually rushes ahead to be first, but today he asked to be the last one.
Before reaching our minivan, he asked for my iPhone to take a picture of his school.
I asked for Daddy's iPhone to take a picture of my baby.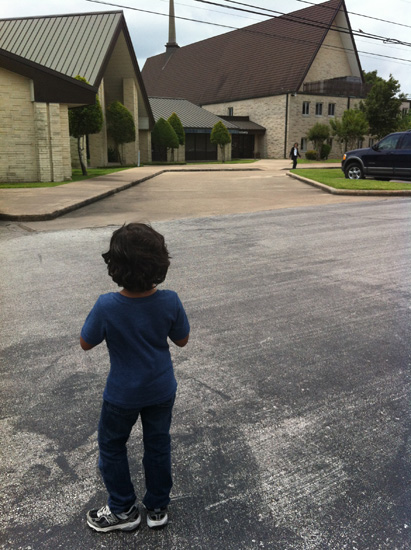 ***
We can learn great things from every soul, storm, and rainbow. The greatest of these is that we belong to each other, and we have everything when we have faith, hope, and love.
I am so happy you are here. Don't miss future articles! Be sure to sign up for our RSS feed. Let's be friends on Facebook too!