It is Baby #3's last day of Bird Class at The Little Gym. My last day of Bird Class at The Little Gym. Our family's last day of Bird Class at The Little Gym.
We began when we took Baby #1 to his first Bird Class four and a half years ago. Just like today, it was a Thursday morning at 9:15 a.m.
It was his first birthday. We had done everything from pumpkin patches to sporting events in his first year, but not yet participated in a formal weekly activity outside of the home. We decided the Free Trial day at The Little Gym was a good opportunity to start.
Daddy took the morning off from work to be there. We appreciated the real gym equipment and liked the positive environment. We fell in love with our teacher, Miss Jennifer.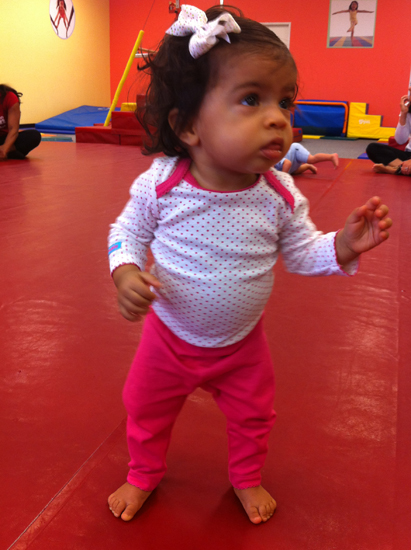 Bird Class for ages 12 to 21 months captures babies during a fleeting magical time.
I once tried talking with another mother in the class about the magic, "This age is so special. It is—"
"I know—the hardest age because they cannot communicate anything they want and it is just frustrating for everyone. I just remind myself it is a phase and it will pass."
—the best age.
I wished to tell her today is life. This is our one day to hold them as close as we can at their youngest and smallest.
This has been the age when each of our children has gradually introduced us to his or her soul, and we have seen a glimpse of their brilliance.
Actually, it is the authentication of a soul we recognized from birth. The one I sensed even before pregnancy.
Now emoted, danced, and articulated in a way that subtly and intimately affirms a divine rightness.
A brilliance every soul has in a God-given form.
Each precious baby went from clinging to us like a koala bear and crying after completing a brave roll over the big blue donut mat to walking in a circle holding the parachute while smiling and singing The Wheels on the Bus.
Suddenly, they know so many words, run, have a little agenda, and know the routine so well that they almost do not need us.
But they do need their teacher. Miss Jennifer.
She has taught Bird Class for all three of our babies. She teaches so many babies. Yet, she always—always—delights in what they do.
This day and every day, she conducts a toddler opus. She notices the tiniest ways they show an emerging confidence. She honors every one of their almost missable achievements.
This is her brilliance.
As she pop pop pops the air out of the loud inflatable bouncing pad, she is elated. "Wow, no tears on the Air Track. That's fantastic! What a milestone."
She sings time to go explore today and points a small white remote toward the stereo on a wall shelf. The first song to play is the Hot Dog Hot Dog Hot Diggity Dog theme song from Disney Junior's animated Mickey Mouse Clubhouse show.
She giggles, "Oh, that's my favorite song!"
On the first day of Bird Class with Baby #1, the trumpeting song was foreign to me.
Miss Jennifer jumps up from the deflated Air Track and asks me, "Where are they?!"
She must realize Baby #1 and Baby #2 should be out of school for summer.
As I point to them sitting so nicely on the blue plastic seats behind the large viewing window, she says, "Aa-ww, they're so big!"
She brings her hands up in front of her face and pinches her fingers together—as if to say, but they are still so small.
She leans out of the glass exit door to say hello and ask Baby #1 if he is excited for Hip Hop Class, which starts at The Little Gym next week.
As Baby #3 walks on the balance beam, climbs on the parallel floor bars, and peeks through the hole in the big blue donut mat, the Jungle Book song Bear Necessities plays.
We had our gold medal ceremony last week, so today's class will end in the usual way.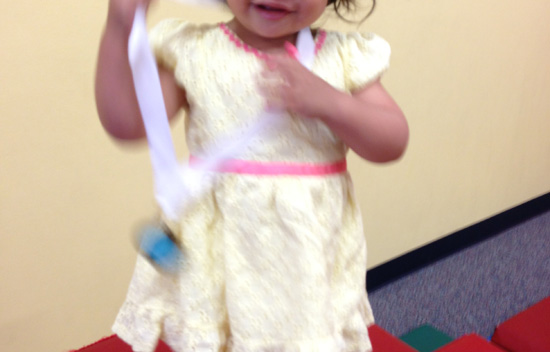 We gather in a circle again on the big red mat. Sitting cross-legged, parents rock our Birds on our laps and sing:
The more we get together, together, together
The more we get together, the happier we'll be
Cause your friends are my friends
And my friends are your friends
The more we get together, the happier we'll be
In this farewell moment, Jennifer leads us in drumming our hands on the red mat and singing Bye-Bye Little Birds I'll See You Soon.
The little birds bolt toward the glass exit door and encircle Miss Jennifer. She gives each of them an ink stamp not just on the back of one hand—but on each hand, each foot, and the belly.
Baby #3 leaps up like a toy wind-up doll dancing barefoot down the hallway and twirling her skirt—already at the beginning of a new story.
***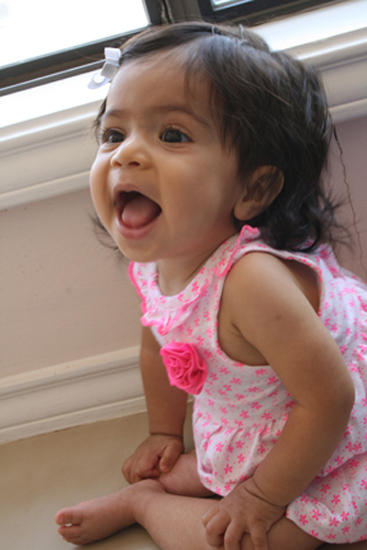 Baby #3's first form of communication was reaching for the hands of people she encountered—reminding me of Princess Diana and Mother Teresa.
As we entered rooms carrying her, she would silently raise an open palm, as if praising God.
As people approached, she would bend forward and reach with both hands to touch theirs.
She did this with family, church friends, strangers at Target and Costco, and our Day School teachers who treat us like family.
Baby #3 said her first real word almost exactly a year ago when she was 10 months old. For a few months, she had been meaningfully saying Momma and Daddy.
Then, while we were watching the Opening Ceremony of the London 2012 Summer Olympics, she peered at our dear Black Labrador through the glass window pane in the back door and said Jesse.
It sounded more like Teh-tee at first. I have been told my first real word was my dog's name, uttered while peering through a back window pane.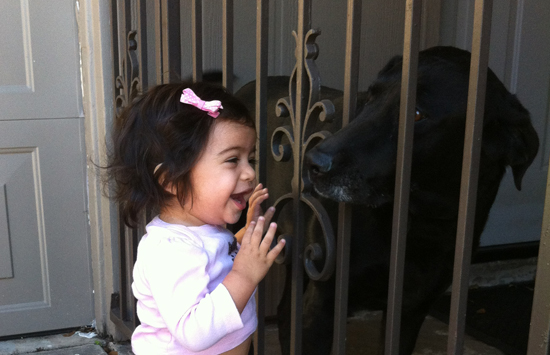 As my constant companion, she has heard my continuous narration of the day. Ever so gradually it became a continuous dialogue with her.
True to how she delights in everything, soon came yay and wow.
Then, she had two versions of the word no. The regular no meant no. The longer, softer no meant yes.
By her second Christmas, she was calling our Elf on the Shelf by his name Per, the Norwegian name pronounced the same as saying pear softly.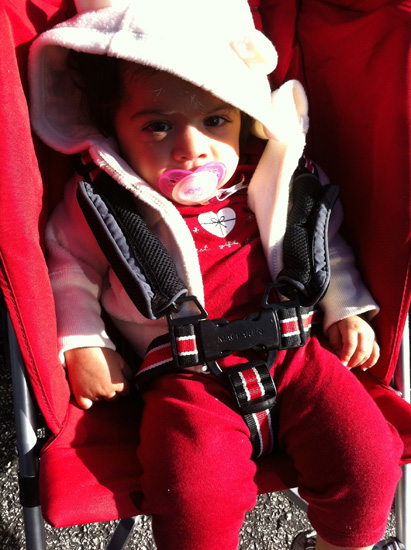 On our trip to Disney World in February, she was 16 months old and acquiring words by the minute to help connect with the world around her. She danced to every tune she heard. She cooed at the Disney princesses and reached for their hands.
The new word flower was her response when she first viewed the many vivid blooms just beyond the entrance at EPCOT.
One day on the way to Day School pickup, I was playing the 2013 Grammy Nominees CD that Daddy gave me for our $10 Valentine's Day gift.
The Lumineers song about belonging to each other was one of my favorites to sing.
I heard Baby #3 behind me in her rear-facing car seat softly singing the folk sounds, "Ho hey…" During the chorus, she sang sweetheart, slightly muffled by her pacifier.
As spring came, she learned the names of her older siblings, preferring their pet names, Aiyah and Baby. Shortly after Baby #2 named her doll Baby Sarah, Baby #3 named her doll Baby Baby.
Listening to them, she learned to count to 15 by rote.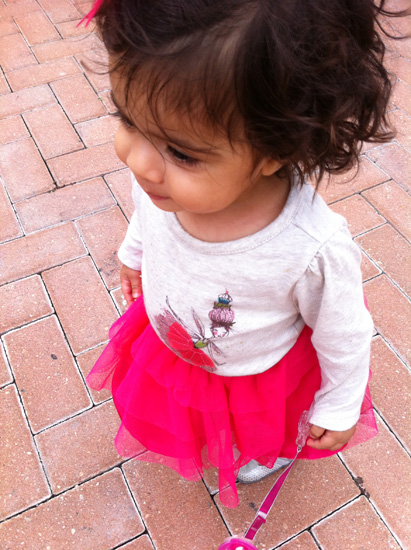 At 20 months, she began to mimic and adopt whole phrases as if she were still acquiring one word at a time.
Canihaveit? Canisee? Canihelpmomma? Whatsthatcalled? Mommapleaseihaveagogurt? Wheredaddygo?
Idontknow. Itsokaybaby. Dangerous?Dangerous? Nothankyou.
Holdmemomma. Juicepleasemomma. Openit. Upplease. Grouphug. Coldkiss.
Ohman. O-kay. Oh. Ow. Prettybracelet. Prettynecklace. Happybirthdaytoyou.
Now, at almost 23 months and teetering between a slight 20 and 21 pounds, she is walking, running, dancing, singing, and talking as fast as she can. All to keep up with her siblings.
She seems to study their use of language and then practice. Baby #2 asked her the other morning, "Can I have the Cat in the Hat book?"
In her agreeable way, Baby #3 answered, "Okay, Baby, book Cat in Hat."
Her most asked questions during the day are: Where Daddy go? What Micah doing? What Baby doing? Can I help, Momma?
In the van on the way home from Day School, Baby #1 and Baby #2 like to play games of repeat with their baby sister. She easily parrots every multisyllabic word.
Once Baby #1 prompted, "Say happy." She answered, "—birthday to you!"
Her repertoire of nursery rhymes includes Twinkle Twinkle Little Star, Wheels on the Bus, ABCs, Ring Around the Rosie, and Jesus Loves Me—but Patty Cake is her favorite because we can touch hands.
She tries to hum and sing-song sounds and words to every song on the radio. She especially loves the same Top 40 hits that I always sing—Selena Gomez na na na's, Maroon 5 oh-ohs, and Taylor Swift ever ever evers.
Any amount of babying on our part could not mask her blossoming personality and voice—a soul that has always whispered hope.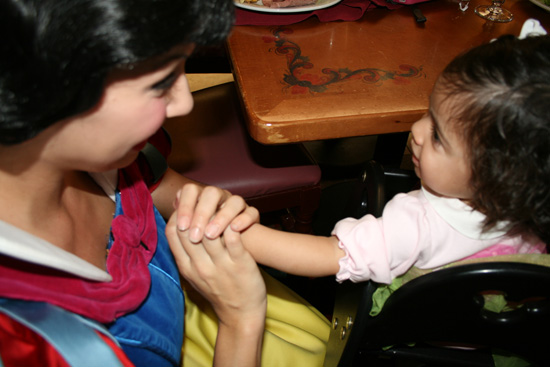 ***
It was spring 1987 at Bulverde Elementary School in Bulverde, Texas. We were being sent in pairs from our second-grade classroom to the school library in the main building.
On our great journey, we walked from our temporary portable building, across the asphalt, down the covered bus line sidewalk, through double glass doors into the cafeteria, right and up a short flight of stairs, past the front desk unnoticed under the counter height, through heavy wooden double doors that sometimes caught our little fingers, and down the long carpeted hallway to the library with glass walls.
I walked to the far right wall that I had not browsed in the past. I ran my finger along the spines of the thin books with names of important people. I paused on a mauve-colored spine, tilted the square hardcover book by its top corner, and pulled it off the bookshelf. Turning the cover over, I read—Diana, Princess of Wales.
She would become the subject of my first book report on a biography. The idea that she was a princess intrigued me because I had been told that was the meaning of my name.
She was pretty like my mother.
She inspired me with the way she reached for people's hands, the way she went into the big world and loved people otherwise forgotten or ignored, the way she never appeared more joyous than when she was with her babies.
***
It was fall 1997 at the historic Omni Parker House Hotel in Boston, Massachusetts. That morning, my father had helped me move all of my clothing and personal belongings into The Towers dormitory situated facing the Charles River on Bay State Road at the campus of Boston University.
I came to Boston desperately wanting to begin my life and to one day change the world.
That evening, we had gone on a harbor boat tour and then returned to spend the night at the hotel before we would say a final goodbye in the morning.
My father had given me the king-sized bed in our suite and was sleeping on the couch in the attached living room. I was laying on top of the comforter of the still-made bed with my hands cupping my chin.
I was riveted to the television, but not watching my high school favorites Beverly Hills 90210 or Party of 5. Not trying the new show Ally McBeal, which was set in Boston.
CNN was broadcasting coverage of breaking news. Princess Diana had been injured in a car accident in Paris, France and was in surgery.
After some incalculable period of hopeful minutes that seemed void of other sound, the news desk anchor announced that Princess Diana had succumbed to her injuries.
At that moment, I did not realize my life would Never Be the Same. I had not yet begun my first day as a broadcast journalism student at Boston University's School of Mass Communications. I knew not that I was already at the beginning of my journey back home to Texas.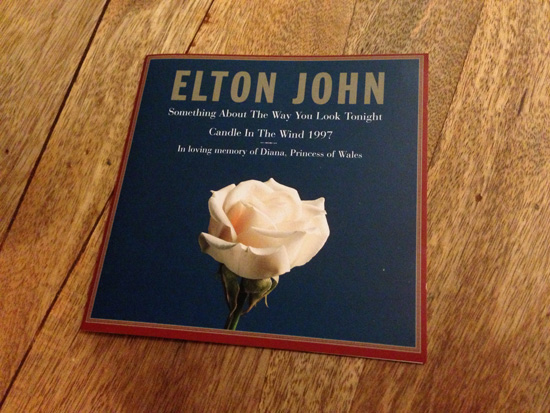 In the classroom, I was flooded with information on the history of mass communication, the purpose of journalism, the ethics of reporting, and the craft of telling a story.
Outside the classroom, I spent my time watching CNN reports about Princess Diana in the Student Union, walking the roads of Boston, reading newspapers with Mother Teresa on the front page, missing the ones I loved, questioning my major, and writing late into the night for a class in which the professor gave everyone a C on the first daily paper.
"Even if you were the best writer in your high school, you are on your C level. I want to help you get to your A level," she said as we stared back with upset wide eyes.
On Tuesdays and Thursdays, I had to speed-walk up Commonwealth Avenue for 10 minutes between my two favorite classes—Sociology of Developing Countries and Dance I.
On weekends, I could easily walk across Boston in an afternoon, and I did many times. With my backpack, headphones, and Discman, I walked alone.
Walking became a ceaseless prayer. In it, I did not find my way, but rather realized this was the way. To keep walking and praying. And writing. And dancing. And above all loving.
Knowing where I was going was less important than the hope that this continuous prayer would lead me to use my gifts in a way that touched people.
I would not say I so much as met many people in Boston as I would say I encountered them. My entering status as a junior made it difficult to interact with freshmen my age. The dispersed layout of the old urban campus made it difficult to meet anyone by chance.
I did on occasion see another junior, a real junior, named Anju who was small like me. She lived in one of the brownstones for upper classmen, but she came to check her mailbox in the lobby of my dorm.
When we did encounter each other, I felt something common between us more than our size, our heritage, or the fact that we were holding our mail.
She was usually on her way back to meet friends at her place.
I felt like she almost invited me each time but she never did. Maybe God was whispering to her, "Let her go on home. Life is waiting for her there."
My writing professor started giving me a B+ and eventually an A as the semester continued.
Dark came so early in the evenings in Boston. I awoke more and more days feeling ill with bouts of fevers, aches, things that made it difficult to eat and talk, and losing my voice entirely for a week.
It was always on those sick days that my writing professor told me to speak up. I felt if I explained I would just cry. So I worked harder, hoping maybe that my writing could speak for me.
By the time I scheduled my flight for Thanksgiving break, I was ready to give in. I wrote a long and emotional e-mail to my mother and it was decided that I would return home permanently.
I had set my sights on a lovely pair of shoes, tried them on, walked around for a while, but had to admit they simply did not fit.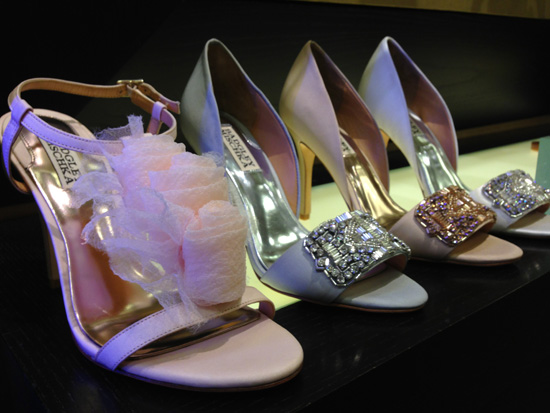 I brought home everything that I could during Thanksgiving and returned for the last few weeks before exams. In those last days, I said my goodbye to Boston by walking and Christmas shopping for my family.
One of those days it snowed, and I took a long walk along the river from my dorm to Quincy Market.
Boston looked serene and beautiful.
I had this one day to hold her—a place where I had found a piece of myself, a place that is another home forever in my heart.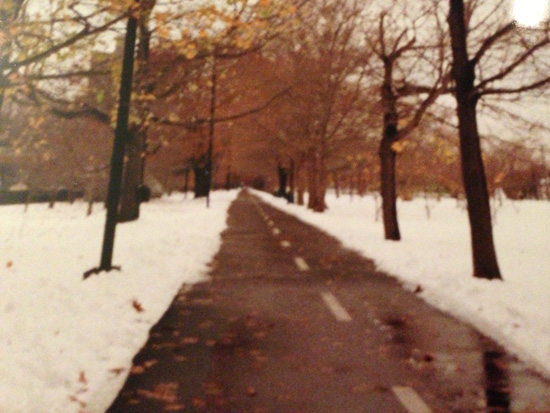 I walked down Bay State Road and up the brownstone steps of a hidden administrative office. As I entered a carpeted lobby, I felt the warmth of the wood paneled walls and ceiling. My hands trembled as I waited for a sign of anyone present.
After a few minutes, a woman in a dark gray pant suit and red silk blouse entered the room, "Hello, my dear, how can I help you?"
I inhaled and began my rehearsed statement. She brought her hands together in front of her heart and stepped toward me.
I paused as she circled her arms around me with her hands on my shoulders. As she guided me around the corner to a parlor, I could smell her floral perfume.
We sat down on a baroque upholstered couch. There was a fire burning in the fireplace on the other side of the room.
I started my brief statement over from the beginning. Placing her hand on my knee and nodding her head, she asked, "Is there anything we could do to make you stay?"
I could have told her the obvious problem. The decentralized campus had left me invisible to my peers and without a tether to supportive adults.
But that was not even the beginning of the whole story.
So instead, I answered with a soft no.
As I stepped down the brownstone steps and back toward my dorm, I could have danced barefoot down the streets and twirled my skirt.
I knew then that life was not waiting to begin.
Today is life. This is our one day to hold.
And this was the last day of a prelude to another story—a love story.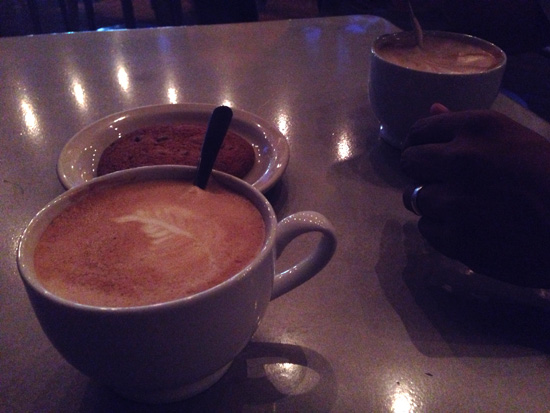 Please be in touch for Part II of this story, One Day to Hold.
I am so happy you are here. Don't miss future stories! Be sure to sign up for our RSS feed. Let's be friends on Facebook too!