When I think of myself as a little girl, I often recall a day when I was no more than four or five years old in downtown San Antonio. Skipping and twirling in a hand-embroidered purple Mexican dress, I danced down a sidewalk speckled with afternoon light, shining through branches of overarching trees. We had taken our mother's dear sister, our Godmother, to eat Mexican food and shop at El Mercado. As visiting loved ones do, she purchased the Mexican dress as a gift, a sign of love, a sign of her. And of me. She had said to pick the one I liked. Adoring my aunt, I loved this dress and asked to wear it home.
Not too long ago, walking behind Baby #2 after the fall carnival at Baby #1's school, I saw a present-day glimpse of my little girl world of dancing dreams. In a simple magenta dress similar to my purple one, Baby #2 skipped and twirled, dancing down a sidewalk speckled with afternoon light, shining through branches of overarching trees.
And, I could see, that we are. We are again and again. We are one. We are one and only one.
***
At the end of a day that has left me especially weary, I have learned to wish not for anything more, only to simply keep walking, keep dancing.
Breathing in and out, slowly and deeply, I step lightly from where I stand onto a small heavenly boat and float back to my little girl dreams. Dreams that allowed me to dance down the sidewalk and twirl my skirt. Dreams that let all the hours of the day drift peacefully, holding baby dolls and cooking with my dear sister in our play kitchen. Dreams that carried only hope and love.
A little girl's world of dancing dreams.
On such well-worn days, although at first I see an ocean between where I stand and a complete family dinner, I walk into the kitchen and begin to dance my little girl dance. The dance of a real mother now. The dance of South Indian cooking set to the musical fragrance that filled my childhood home in Bulverde, Shervin's childhood home in Houston, my grandfather's home in India.
With my little ones playing underfoot, days of constantly wearing them in a papoose or carrying them on my hip beginning to quietly fade, my hands have become free again to cook our food from the most basic ingredients. The food that begins with mustard seeds in oil.
Cooking a meal that I might spend days to prepare for Christmas, I begin with green beans thoren, the fine chopping of hundreds of tiny pieces, entering a flow, centering myself.
Escaping modern conveniences, I consciously attend to the simple acts of washing, peeling, and chopping. It is my soothing practice, my loving ritual.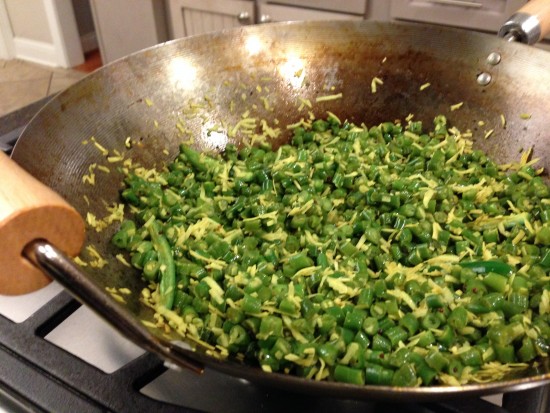 Aromas of cumin seeds, curry leaves, and unsweetened coconut sing the essence of love throughout the house.
"What smells so good?" The children walk on tip toes, noses pointed upward.
One by one, surrounding the first dish of green beans, I add to our small round kitchen table the dishes of chicken curry, potato curry, basmati rice with green peas, and grilled round bread. I feel a rising wholeness.
Even if I am helpless to do anything else, on the most tedious of days, on the days my joints most pain me, this human work of generations is my adoration. I accept where I stand and do this humble work as if it is a dance.
And in return, I find myself again. And, they see me, too.
On one such day this summer, as I was absorbed in meal preparations, Baby #1 opened the drawer of fine silver beside me.
"These are pretty! I have an idea. Let's use these for dinner, Momma."
I almost spoke the words no honey, not today, these are for special occasions, but other words emerged on their own, "They are pretty, kutta. We should. And, let's find the nice table cloth."
Kneeling down to wrap my arms around his body, I whispered, "We can surprise everyone with a family dinner in the dining room."
My kindred spirit, he adores the opportunity to do something out of love.
As if preparing for the most important guests, Baby #1 began his work as a serious artist. We are never more in sync than when we work together in this world of dancing dreams.
When Daddy arrived home from work, Baby #1 led the family, pulling them by the arms, to the dining room, "We have a big surprise!"
Together we prayed at the long wooden table with light upholstered chairs, underneath a shimmering high-polish chrome and crystal chandelier. The formal room had so elegantly framed our Christmas meal, a meal consisting of the same basic foods. On that quiet summer night, at the end of an exhausting day, we shared an ordinary and humble dinner.
"Mmmm, Momma. Yummy. I like your food, Momma. I know what we should call this room—The Love Room."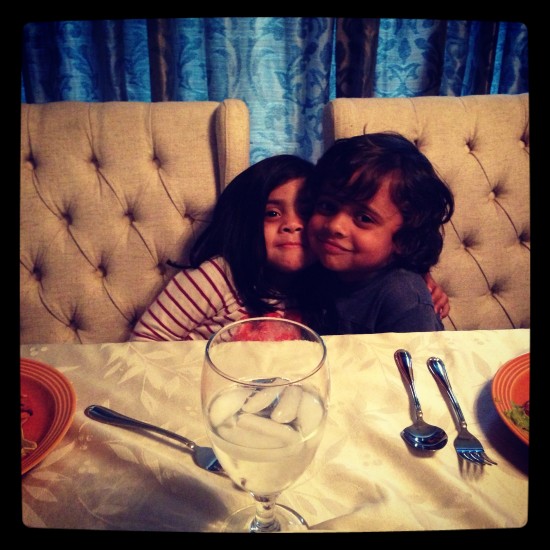 ***
On the morning before our tenth anniversary, Thanksgiving Day, we prepared for our drive to celebrate the holiday in Bulverde. I could hear my three babies giggling and shuffling through our bedroom to find me dressing in our master bathroom.
At the door, Shervin prompted, "Ready?"
"I love your dancing, Momma!" sang three sweet harmonizing voices. As I sank to my knees, receiving their loving hugs, I wept.
"Thank you, thank you. You are so wonderful. Thank you so much. Momma is crying, but I am crying because you make me so happy."
From a large gift bag overflowing with white tissue paper, the children revealed a glamorous purple dance bag. Shervin smiled his wonderful way and was happy.
Among all the days spent giving of myself with all my being, I sat still in a quiet grateful moment to receive.
"Happy anniversary! You can take this to dance class, Momma. Always keep dancing."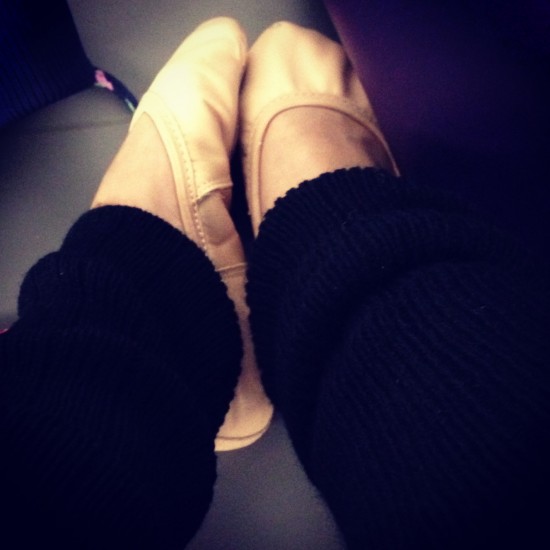 ***
It is December 18, 2013, a Wednesday night at 6:45 p.m., less than an hour until our babies' regular bedtime.
Walking swiftly through the echoing underground parking lot, thoughts flurry in my mind as I ensure the minivan's doors are locked. Searching for the stairwell and walking tightly alongside parked cars to avoid others still circling, I grasp her hand.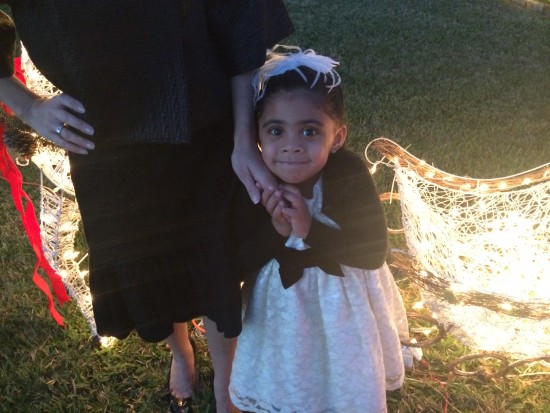 I feel small, holding her delicate fingers. Amazed how I am the one holding her hand. Two little girls. Only now I am grown. And this tiny one is mine. Together, we are downtown for a date to see The Nutcracker ballet for the first time.
Our path converges with that of a tall grandfatherly gentleman also walking swiftly yet assuredly toward the stairwell.
He shakes his head slowly and emphatically, as if he has something critical in mind to tell me. Pointing with authority down at my little girl, he declares, "Cute."
I smile and scurry to the stairwell, mentally recording our pathway, so we can navigate back to our car at the end of the evening.
As we emerge three flights above on the street level, the sky is already gray-black, the lights of Downtown Houston drowning out the stars. The air feels humid and cool, just hinting of a fading Texas winter cold front. I only now realize Wortham Theater Center is across the busy street from the Bayou Theater District parking garage. Walking further down the sidewalk in search of a protected crosswalk, I look about with mild fear.
Both intersections to my right and left seem at too great a distance for Baby #2 to walk.
To my left, I see the grandfatherly gentleman in his dark tweed overcoat and slacks, stopped closer to the stairwell. He looks up toward the audible Hard Rock Café and then across to the Wortham.
Carrying Baby #2 is the best option, even though we are in our fancy dresses, myself in black patent high heels.
The grandfatherly gentleman notices us and approaches. Are you going there? Do you need to cross?
I silently nod.
"Okay, hold on. I will take care of you. Wait, stay right here."
Stepping out into the street, he holds his long left arm out with an authoritative flat palm to traffic. A black sports car comes to an obedient stop, the asphalt glistening under headlights.
He turns to wave us forward and reaches down to take Baby #2's left hand, escorting us to the opposite sidewalk that runs parallel to the front of the theater center.
"Thank you so much," I nearly curtsy to him, expecting him to rush back across the street.
"Now, do you know what floor you parked on?"
I could only be honest, shaking my head apologetically. I planned to rely on my visual memory of the path, rather than noting the precise floor and row. I had neglected to take a photo like Shervin would have if we had been together.
"No, the floor color and letter of your row," he insists, willing my response.
"I know where it was, but I don't know the letter."
He stops still and turns to face me. "Please, tell me you do."
I feel a familiar need to not disappoint this man.
"I know it was below orange and green, that color. And the first row near the stairs."
"I am on purple," he says.
Recalling our first encounter, I can confirm, "Okay then. Yes, we are on purple."
He begins to walk again, his head slightly shaking in disapproval, his eyes gazing at the ground in grave concern. "Oh, no, see, now you have to know these things. Español? What country are you from? What language?"
His swift questions allowing for little detail, I promptly reply, "Malayalam….a language from India."
"No? Oh. Wow. Now, does she know the language? She needs to know. It's beautiful, and she needs to know," his voice sounds decisive.
As he completes his sentence, we turn to face the grand façade of the Wortham Theater Center.
"Isabel…Look, it's beautiful," I narrate. She gasps, viewing the huge arch of small rectangular window panes that frame a glorious sparkling Christmas tree.
He softens once again, warmly asking, "Have you been here before? It is beautiful inside, you will love it."
I begin to take a picture of Baby #2.
"Let me take a picture of you both together."
Taking my iPhone in hand, he says, "Now you'll have to tell me what to do. Oh, nope, it's taking a picture of me. Now you have a picture of me. You don't want that."
I find my digital point-and-shoot camera in my evening bag, putting him more at ease.
"Okay. No. Let me take another one. There. I think it was a good one."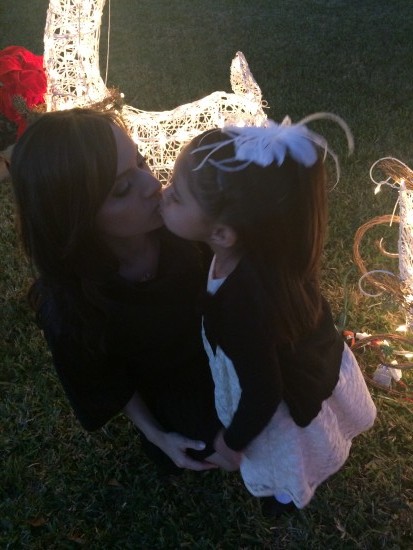 "Thank you," I say, awestruck as we cross the plaza.
I am without more actual words in response to this dear, whole-hearted, charmingly solemn man who is taking such good care of us. As if we are his.
"Let me," he says, opening the heavy tall theater entrance door. "Okay then. Goodbye now."
I sigh deeply to myself, withholding impending tears, missing my late Grandpa in India. I wonder what few precise words he might have said if he had ever seen Baby #2, ever held her hand.
We veer to the left to retrieve our tickets at the will-call window. I turn back to see our grandfatherly angel step onto the steep escalator and silently rise in stately poise to the main floor above.
On our own ride, I encourage Baby #2 to look up and regard the captivating view, while I still look down to be sure her little body is safe and sound. At the top, we are received by a waiting female usher.
"Do you know where you are going?" she asks, accepting my tickets to check the location of our seats.
"No, this is our first time here."
She nods, smiles, and steps toward us, folding her hands softly together. "First time. Okay now, if you need to eat something, you will find the dinner buffet toward your left and the dessert and beverage buffet to your right. In the center here, there is the Nutcracker shop. To reach your seats, you will go straight back, downstairs, and to the right to the Orchestra. Be sure to go down there a little early. After 7:30, they will not do late seating on the Orchestra level."
"Thank you so much. Also, where is the restroom?"
Glancing down again at Baby #2, she responds, "Oh yes, you will want to do that first. The ladies' room is to the far back on the left."
Suddenly, the grandfatherly gentleman approaches, appearing from behind the usher.
My right hand subconsciously hovers over my heart.
He steps within arm's length and speaks mid-thought, saying, "Now, if you were on the bottom floor, then you were on purple. I remember, I am on Purple L, and I saw you walking and said the baby girl was cute, and so you must be on the next row, so you must be M, Purple M."
Folding my hands and instinctively bowing ever so slightly, I say, "Thank you so much. Yes, that is wonderful. Thank you so much."
"Remember that," he says. And, we part.
As I hold my breath and Baby #2's hand, I weave through the bustling mezzanine. She wants to skip, sit on a leather banquette, and twirl in her dress, almost waltzing in a dream, chin up in her graceful ballerina posture, so happy to be here.
I recall this state of being well. It is the mind of a little girl. Her dancing dreams.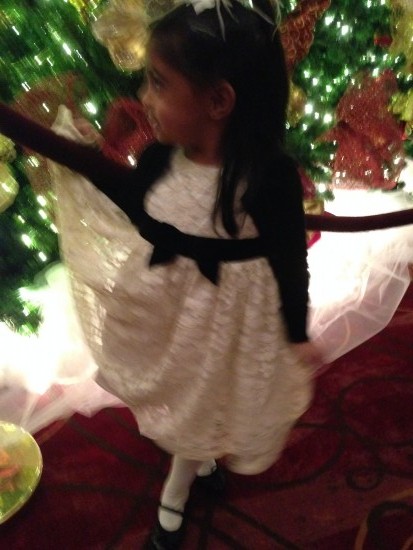 I overhear many comments as we walk. She is so cute. Just look at her. Her feather headpiece. Her dress. The way that sweet little thing walks.
In the dinner buffet, I quickly realize that ordering for myself would be pointless given my preoccupation with her. I request a child's plate and receive a meal of macaroni and cheese and chicken nuggets with cranberry juice. After paying, we search for seating in the fully occupied dining area, facing cool expressions of young adults with no food on the tabletop but cellphone in hand, mothers and daughters who seem to have been here a thousand times before.
Walking across the entire floor, finally spotting one open table, I hear a voice commenting.
"See, that's my girlfriend. The baby one."
I smile at our grandfatherly gentleman.
"Now, where are you parked, lovely?"
"Sir?"
"Where are you parked?"
"Purple M."
"Say it one more time," he encouraged with his own sincere, quiet gusto.
"Purple M."
"That's what I'm saying!" he nods with proud satisfaction, turning back to his own wife and two adult children, a son and a daughter, who smile and adore us inaudibly as Baby #2 eats her meal.
Waiting patiently in the lavatory queue, beautifully groomed ladies adore my living doll. As we exit the ladies' room, even the security guards adore, commenting as she simply must partake in a few sips from the public drinking fountain.
After posing for a few photographs beside the glorious sparkling Christmas tree and admiring an elaborate gingerbread house, she selects three ornaments from the Nutcracker shop, including a pink glass ballerina for herself, a white glass ballerina for her baby sister, and a wooden mouse king for her big brother.
The melodic chimes begin to sound, politely beckoning us to our seats.
As we come to the bottom of the staircase and approach the theater doors, a couple walks just beside us. The guy smiles at her girlish mannerisms, while his date observes, "I didn't know they allow children."
I only ever thought of this ballet as a magical tradition for children.
I pause to watch her take in the view of the red-velvet theater for the first time.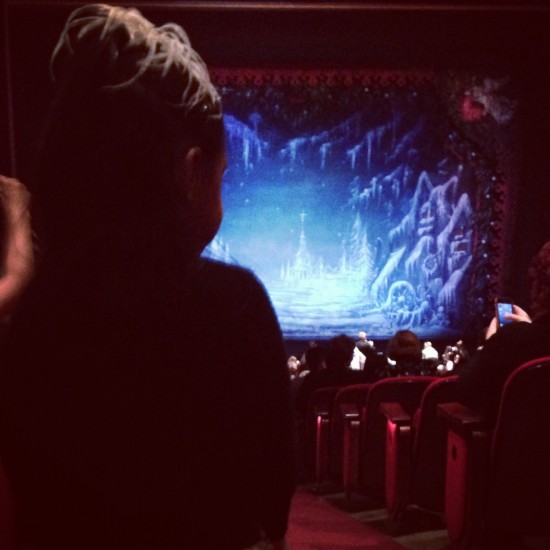 Wanting to give her the most vivid experience, one to remember always, I purchased the best seats available, seats three and four in row G.
As we pass by, a mother with her adult daughter in seats 1G and 2G comments kindly, "Aw, she is so cute."
The daughter leans over to say, "I love your ballet shoes."
Leaving our belongings underneath our seats, we step a few yards down the inclined main aisle to peer over the railing of the orchestra pit. As I hold her up, Baby #2 eagerly points at every instrument, asks each name.
Tampini drum.
Just before I set her back down to return to our seats, she waves to the violinist who glances up from her sheet music and smiles.
As the lights dim, I remind her that we clap when we enjoy the performance.
"Violin, Momma, violin, violin, violin."
"Clap, clap if you liked it, that is your way to say you liked it."
Her eyes and her mouth strain toward the ceiling as she tries to distinguish by ear each instrument in the music.
As the first act begins, opening with the dramatic visual narrative of a family's Christmas Eve, she comments, "I thought it was a movie, Momma."
"It is a ballet story," I say.
She is waiting for the ballerina to pirouette at center stage, a favorite part seen in television commercials for the Houston Ballet's annual rendition of Tchaikovsky's timeless work.
With each slight sound and sight, she chirps. Bells. Chimes. Cymbals. Clara-bel. Somehow extending the main character's name to rhyme with her own.
At intermission, she conveys a fondness for the nutcracker prince, especially the mouse sword fight, which I did not expect. Of course, she adores the best white ballerina in the middle.
After visiting the ladies' room, sipping cranberry juice, and unwrapping the tissue paper to admire her pink glass ballerina ornament, we obey the chimes bidding us back to our seats.
"I think these are the butterfly fairies, Momma."
A woman two rows in front of us turns to look and smile at her mature engagement.
I think this is the dance of the angels.
"Glockenspiel, Momma," she says as act two begins.
"I know this song," she affirms.
It is the dance of the Sugar Plum Fairy. I think of the brilliance and endurance of Tchaikovsky, of all the world's great works of art.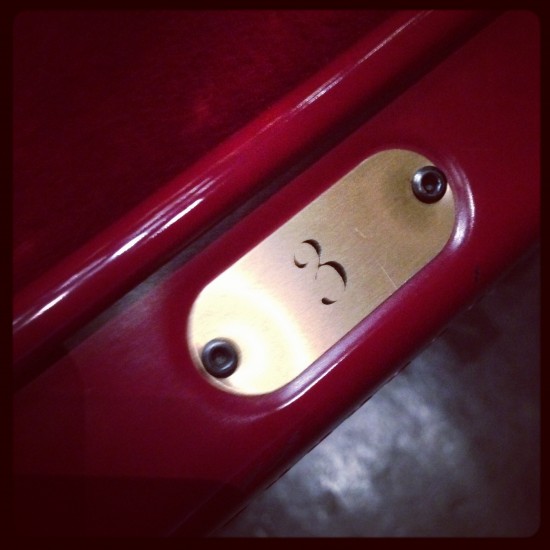 We sit in seat three together, my arms wrapped around her dress, in tune with her physically. I feel the rise and fall of her steady breath. She is warm. She is compact, light, tiny still even compared to me. She has shed her black ballet flats, and her little foot, covered by smooth white tights, fits in the palm of my right hand.
She sits with her head resting in my other hand, skin to skin, a pose she has found soothing since infancy. For the whole first act, she had sat upright with perfect posture, completely attentive, her feather headpiece framing my view of the stage. Now, she leans back onto me.
"I'm sleepy, Momma," she sighs, always having been peaceful to submit to sleep in my arms rather than resist. She rests like a kitten curled in my lap. I overhear when the mother to my right, still using her kind voice, mentions our other paid seat, empty to my left.
"You will want to see what is next, I promise. It is special," I whisper hoping to keep her awake for just a little longer.
I have many favorite scenes of The Nutcracker, from the narrative beginning, to the snowflake waltz, to the sugar plum fairy, and each individual culture, but I truly adore the coming together in the end because that is the mind of Clara, the little girl.
Making our way out of the theater, we travel through the mezzanine, across the street, reaching the other sidewalk, and stepping down three flights of stairs. We finally arrive at the purple level of the Bayou Theater District underground parking garage.
Retracing the path I memorized earlier in the evening, we come to our row just beyond the stairwell door.
I see, as our grandfatherly gentleman had said, he was on purple L.
Yet, although he conjectured that we must be on purple M, our minivan is also parked on purple L. The row is labeled the same on both facing sides, like a mirror.
Purple L. Baby #2's favorite color and the letter of Love.
After buckling Baby #2 into her car seat and beginning to exit the garage, I look into the rearview mirror.
I wonder how my little girl feels inside following this first most lovely ballet. I have never seen a more heavenly performance of The Nutcracker.
"How did you like The Nutcracker?"
"Good."
"Would you like to do this every year?"
"Yesss."
As I hang the pink ballerina ornament on our Christmas tree, I hear so many words unspoken.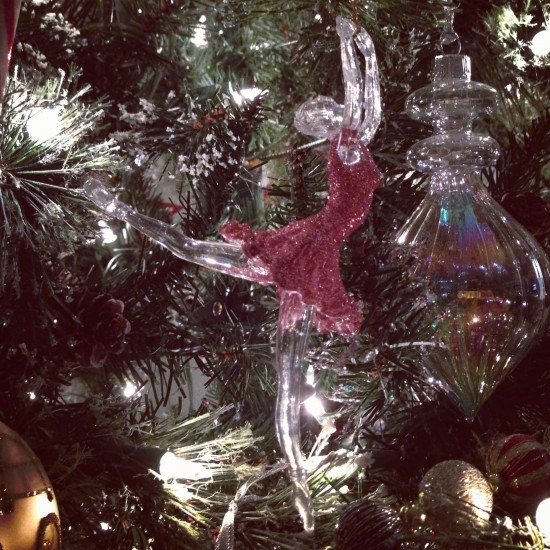 ***
Art is divine. We, in our finest art forms, only ever speak of love, dance of love, sing of love, act out the stories of love, pen the histories of love. We applaud and laugh and cry and stand in ovation to these sincerest expressions of love, for love is divine.
We are here in this world to touch one another through love, giving one another hope. We can only love one another if we are honest, if we are vulnerable, if we are able to feel with others. We must never forget to live in the truth that we are all the same, all belonging to one another.
When you take the time to see someone, to thank someone, to hold someone, when you are willing to be with someone, walk with someone, help someone, cry with someone, you have given that someone a memory of love and peace they will carry forever.
***
On this Thursday afternoon, the day after the ballet, on the drive home from kindergarten and Day School pick up, we are diverted by a train. We drive through our old neighborhood and alongside our old park.
I encourage Baby #2 to tell Baby #1 about her Nutcracker experience, but she is deeply distracted.
"When is Marci coming back from heaven?"
Baby #1 and I almost answer, but stop. I see him swallow tears as our eyes meet in the rearview mirror.
Although she was only 19 months old when we moved, the old neighborhood and park have brought Baby #2 back in time to when our dear cat Marci was with us.
For the first time upon one of her questions, unable to hide again, I have given in to the tears.
"She can't," we both manage to say together. Baby #1 drifts silently in thought.
This month marks one year since Marci passed.
My own mind drifts to memories of Grandpa. Next month marks five years since he passed. Although only in pictures, he knew and adored Baby #1. He never knew our baby girls.
***
During this Advent season, Corpus Christi Catholic Church invited parishioners to offer gifts to fund the Christmas poinsettias that would decorate the altar and vestibule of the church for Midnight Mass. Each gift could be made in honor of or in memory of a loved one.
Since losing my grandfather five years ago, having been unable to attend his memorial and burial ceremonies in India, I have always ached to remember him in ceremony and by name here, where I live and worship. Only very few people here having ever met my grandfather, only very few others at least having known of him, I felt helpless to arrange a memorial of any kind.
As I wrote the check and completed the dedication envelope, I felt a wave of inadequacy. That this check could not be enough. That somehow this check would not reach the right person. That somehow his name would go unmentioned again.
Although I like to see the hope and meaning in everything, I had a feeling.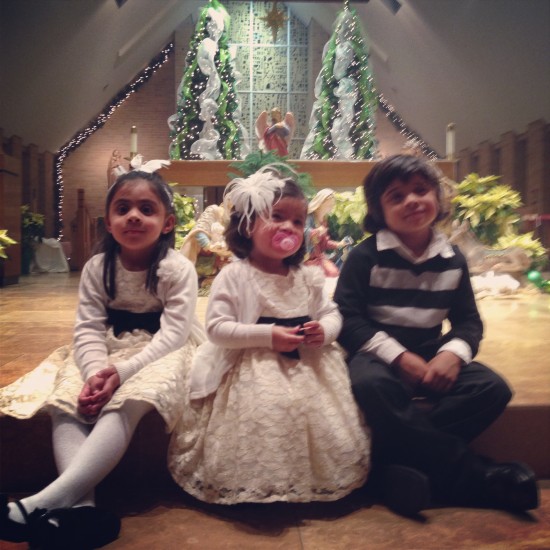 After midnight mass on Christmas Eve, we brought our children to the altar to view the nativity scene. The church looked simple yet stunning, beautiful for Christmas. The white poinsettias and green garlands transformed the modest sanctuary.
I quietly told our children that we had given toward the poinsettias through a small donation and also when buying cookies at the bake sale a few weeks prior.
"The flowers we gave were for my Grandpa," I added.
Their eyes were big, their mouths were silent. They sat on the steps and walked around the altar to see the Baby Jesus very close.
I said nothing more. Just watching our babies roam peacefully.
Something had quietly happened on that holy night.
All that day and evening, Shervin and I had worked very hard to fulfill the traditions we have been creating for our family since marriage, especially after the birth of Baby #1. Cooking and cleaning for Christmas Day celebrations, preparing Christmas Eve tamale dinner, and baking sugar cookies from scratch with the children for Santa Claus had left us rushing to dress for Midnight Mass.
Arriving to O Come All Ye Faithful, we sat in a pew together near the choir with our babies and exhaled.
As we enjoyed caroling before mass began, an usher quietly asked Shervin if our family would serve as gift bearers for Holy Communion, a point when the faithful present bread and wine for the Liturgy of the Eucharist.
The congregation fell silent as we processed. Daddy carrying Baby #3 and the wine, Baby #1 and Baby #2 carrying the offertory basket, and I holding the ciborium of Host. I felt a slowing of time, a meaning in each step.
As we presented the holy gifts and stood before Father, our priest prayed a blessing over us, "God bless your beautiful family in your life together here on earth and forever and ever."
We bowed together as a family.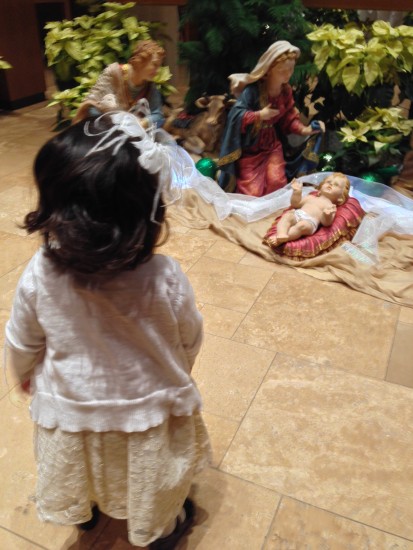 Christmas Day was a blessed and joyful day. Our home was filled with the love of family and friends. I was able to serve the traditional meal I so wanted to give again. The children delighted as much in the company and celebration as they did in their new toys, the girls with their baby doll pram carriages and our son with his football. The children sang a lovely prayer before we sat down to eat. The day was almost a blur—a loving, warm, deeply fulfilling blur.
At the end of the night, our children still in their best dress, the floors waiting to be swept, the dishes already mostly finished by our dear cousins, I felt peace, joy, love, and hope.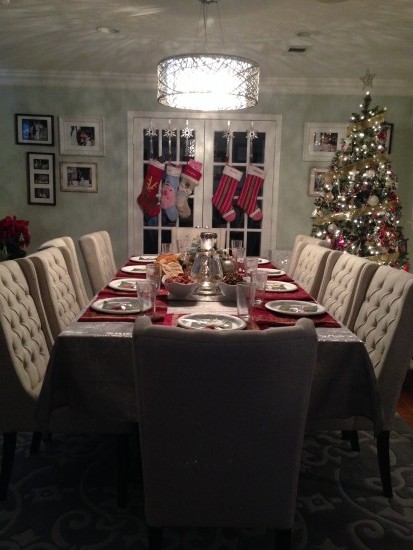 We gathered in the dining room to view our Christmas tree. We talked about the day. We prayed in thanksgiving.
Just before preparing for bed, I invited the children through the glass French doors into my office for a gift I had not expected to give yet.
"Would you like to see my grandfather, my Appachen, my Grandpa?"
I took a deep breath and played a short movie I made for them on my computer, set to one of their favorite songs, Daylight.
Their eyes were big, their mouths were silent. And, they smiled.
***
The next week in the church bulletin, the list of honored names appeared. Grandpa's name was missing. I almost cried, but then I did not. I had released the feeling that his name needed to be on this paper, in the past or upon the five-year anniversary of his passing.
I simply stated, "His name is not here."
Shervin was very startled and disappointed.
In a quiet grateful moment, I let go. "It is okay."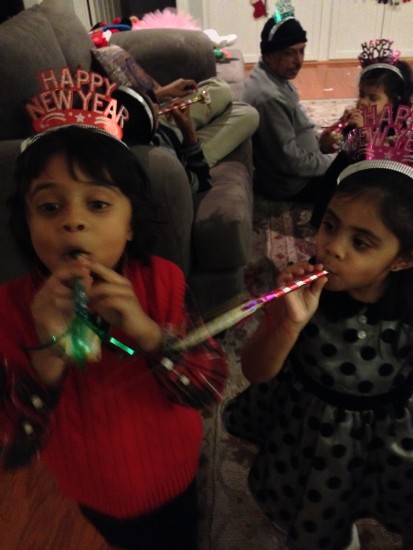 After the New Year, on one of Shervin's first days back to work, he called me at home in the afternoon. His upbeat voice was nice to hear, and he was eager to tell me something.
"I called the church office and spoke with Ms. B. She was so sorry and sad to know she had missed Grandpa's name. She said she was at her desk and looking right at the check in front of her and just could not understand how she could have made such a mistake. I told her that you would be upset if you knew I was calling her and making it a big deal. She corrected me and said it really is a big deal, and she knows. She had a son who passed away and it is important to remember our loved ones, and to say their names. It is just very important, and it does matter so much. She understands. She promised to correct the list on display in the vestibule and to have Grandpa's name printed in the next bulletin."
Grandpa's name did appear in the bulletin the next week. And, on that Sunday night, before laying down to rest, I went to a memory box I had been organizing and found a small photograph of Grandpa wearing a ponada honoring him as a freedom fighter.
I took the three-by-five snapshot I had taken on my first visit to India twenty-two years ago and placed it on our mantle. I leaned it against my grandfather's framed words, words that he shared upon hearing that we were expecting our first child.
For two years since moving into our new home, we had been waiting to find the best image of him to enlarge and frame, waiting to decide the best location on the wall.
When Shervin came home from work the following evening, the children ran to him and pointed to the photo, which I had not formally shown them yet. "Daddy, a picture of Momma's Grandpa."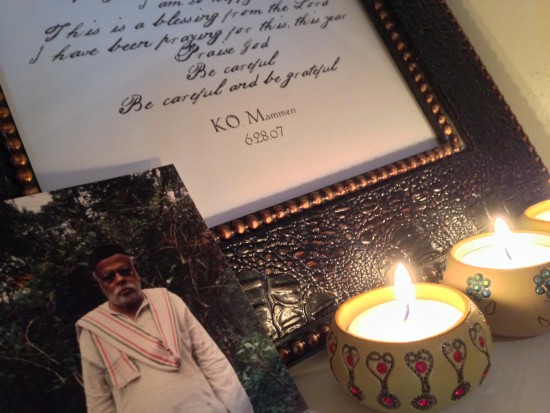 We cannot have certainty in this world, but our ability to live out compassion will bring us peace.
We must seek only to live poorly. To rest comfortably in the presence of one another. Honor the human suffering in each one, and let holy mercy lift one another.
We must adore one another. Touch one another. See one another. Say the words we wish to say to one another. Call one another by name, and let each name live on forever.
Whether loved ones or strangers, we do encounter angels and saints in this life on earth.
Believe in the miracle before you. For your own sake, for the sake of those who have come before you, and for the sake of all our children, believe.
We rest in the peace of all those before and walk in their perpetual light. We are our grandmothers and grandfathers, mothers and fathers, sisters and brothers, and so we must regard each other in grace, leaving this legacy to our daughters and sons.
The stories of our life are the parables of our soul, the natural flow of experience returns us again and again to the same messages from God, and if we are to listen to the rhythm, we hear the layers of the past like a building chorus.
There is no separation between the mundane and the sacred, sorrow and joy, mind and heart. If we can see, all of life is one. All comes from love.
I know I have so much more to tell our still very young children, but I have begun in the simplest way I know. I have begun with his name, Grandpa.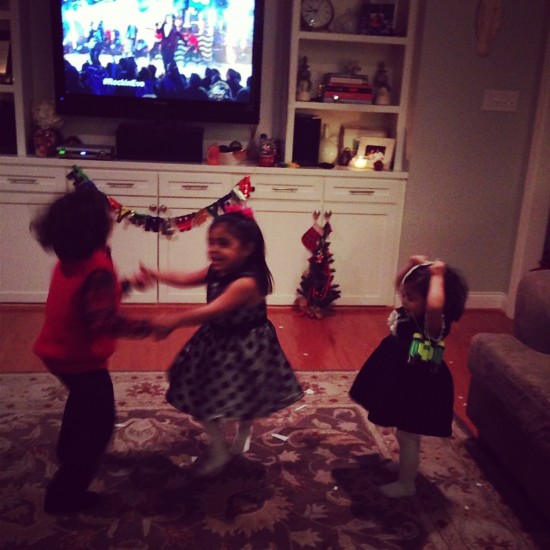 I am so happy you are here! Please do not miss future stories…be sure to sign up for our RSS feed. Let's be friends on Facebook too!