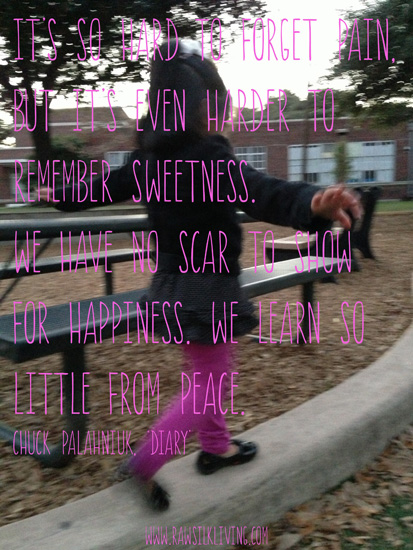 I do not know whether to carry Baby #2 or hold her hand. I want to carry my beautiful baby girl who I feel I did not have a chance to carry as long as I wanted. But, she is a big girl on her first Girls' Night Out with Momma, so maybe I should hold her hand. So she does feel big. But maybe, even though she wants to be big on the outside, on the inside she still wants to be babied.
As I step up on the sidewalk, I hold her cheek to cheek and ask, "Who's Momma's baby girl?"
She squeals, "Me-eeee!"
I pull open the heavy glass door and hear bells jingle. I set her down and remind her not to touch because everything is breakable. She tip-toes between tiny leaps toward a large ceramic platter on the nearest lowest shelf. She runs her delicate pointer finger along the edge, "I like this one!"
As we continue to follow the L-shape shelves of unpainted pottery, she runs her fingers across each style and likes them all.
Her gentle nature and delicate touch soothe any anxiety I had. "Yes, that one is nice…That's nice too…I like that one, Baby."
We began in the more adult platters, vases, and kitchen items. I am slowly guiding her to the kiddie section.
Nearly at the back of the studio, we reach the fairies, froggy banks, dragons with wings, and flat ornaments.
She gasps, "I want this one."
It is a kitten figurine.
Another gasp, "And this one."
A ballet slipper.
Before we turn toward the table the staff helper is clearing for us, she adds, "This one too."
A flat dog bone ornament.
"Okay, Baby, these are perfect."
"This one is for you, Momma!" she says, handing me a cross.
I talk her through the process of sitting down in our white plastic bucket chairs, carefully placing our selections on the table, and choosing paint colors from square samples painted on a tile at the center of the work table.
She points to speckled purple for her kitten, a quintessential soft pink for her ballet slipper, and a red red for her dog bone because Jesse's collar is red.
I realize there is no way to help her without standing near her. Although I am not sure how I will actually sit down to paint, I select black and a random spectrum from aqua to pale orange.
I step a few feet away to collect the paint on small white trays with the staff helper.
Baby #2 is holding the dog bone. She spontaneously tosses it on the table. It breaks in two.
I wonder if she thought it would bounce or perhaps spin like the purple top that she traded her tickets for at Chuck E Cheese.
"That's okay," we sing-song in unison.
"I was giving Jesse a treat." I believe her. She can get lost in her vivid imagination.
Her mind sparks in rapid associations. She sees images in everything. Everything reminds her of something else. A bell tower. A shepherd's staff. The letter L. A hexagon. A globe. A beanstalk. Heaven. A cross.
"Maybe we can glue it back together. But, Baby, be careful because the pottery is like glass. It is fragile and it can break."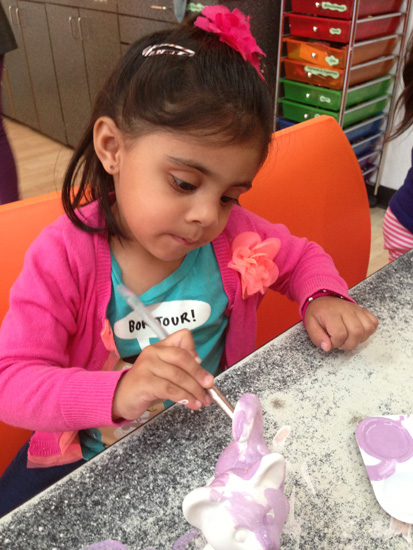 She falls into a Zen-like state as she paints her monochromatic figurines—completely at peace.
I have seen her expression with slightly pursed lips in the photos sent home from Day School and in person at home when we paint in the entryway.
When she finishes the third and final piece, she becomes still. She does not ask for anything else. She is fulfilled and satisfied.
I still have an unpainted cross. I cannot not paint it because she would notice as soon as we left.
I buy her a bag of Pepperidge Farm Goldfish Crackers. One day maybe we will eliminate processed snacks.
Baby #2 sits down to enjoy the orange fish-shaped crackers in a way that all toddlers seem to do—as if sinking into a warm whirlpool spa after a hard day's play.
As soon as I lift my paint brush, tap it in a light shade of aqua paint, and make a stroke on the bisque ceramic cross, she is startled from her Goldfish trance and comes to my side.
"I don't want my fishy crackers anymore. Can I help you, Momma?!"
We paint together, hand in hand, blending the aquas, oranges, and black until there are barely hints of color in the swirling grays. After a few minutes, we both become still. Fulfilled and satisfied.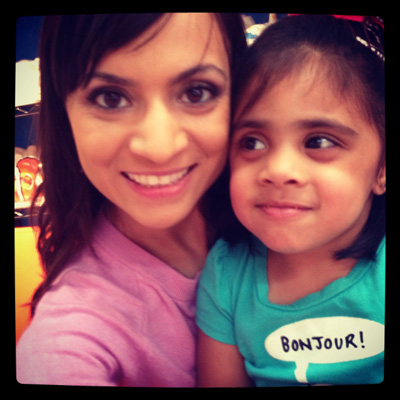 At the front register, I realize our girl time has gone by rather quickly. Through the studio's front windows, I can see our regular Target shopping center.
"Would you like to go shopping?"
"Yes!"
I am a Momma taking my daughter shopping for the first time. I do not really have anything I need to buy her.
"What are you looking for?"
"A polka-dot dress."
I realized only after having a baby boy that I love plaid pants and after having a baby girl that I also love polka-dot dresses. The old-fashioned patterns became nostalgic to me. Our babies have helped me reconsider preconceived notions so often and on every level.
Target is bereft of polka-dot dresses, so we walk across the vast parking lot to Old Navy. I carry her because I can. And I like the feel of her cheek against mine. The way she leans her head back, smiles directly in my face, plays with my hair, and checks for my earrings.
I put her down as we enter the big glass double doors. We have not done this before. She has always been worn in a papoose, carried in my arms, or pushed in a cart or stroller because she was the baby or she was still closer to being a baby than a big girl.
She reminds me of a Hepburn-esque starlet, dancing through the racks in her own Roman Holiday.
In the private dressing room, I pull a pink-striped, flutter-sleeve tee over her head and pull on a pair of slim button-pocket jeans. She leans forward with her hands on the bench and gazes into the mirror, "I look like Momma!!"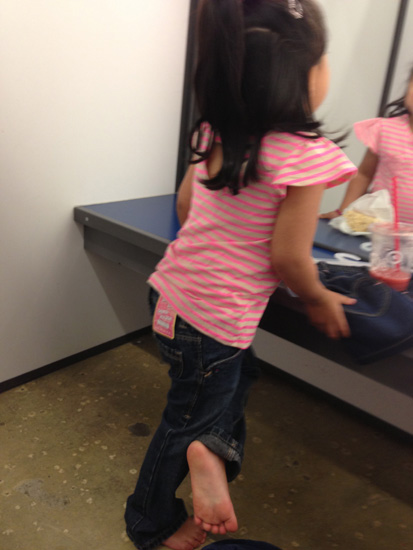 ***
It is Monday night just after bedtime, and I am a few minutes late. I press down on the long rectangular handle and slip through the heavy metal door. I duck my head as I weave through rows of women in the dark room.
The instructor, Jenny, is still cuing up music for Nightclub Cardio at the YMCA.
My mama friends at Day School first introduced me to YMCA Zumba classes, which spoke to the dancer in me. Then, I heard about Nightclub Cardio offered on Sunday afternoons after church and on Mondays at 7:30 p.m.
On my first class day, the instructor introduced herself and said she had just run the Fight for Air Climb for the American Lung Association. She brought us glow-stick bracelets and the kind of quad-colored chasing light DJs use at parties.
I felt an immediate affinity toward her because she was thrilled to be teaching even after her amazing stair run, and her music was current. Her routines stirred my muscle memory of younger days in dance classes and on stages.
For my whole life, I have grasped every opportunity to dance. At least when I could squeeze time in between school, work, and organizations. Tap, ballet, jazz, Bharatnatyam, and a fusion hip hop group in college.
The one place I felt quite shy about dancing was in an actual night club.
Jenny is teaching Night Club Cardio again today with her all-black Spandex tank top and crop pants. Her dark brown ponytail bounces as her voice encourages the class across a black headset microphone.
I find the last spot available in the front-right corner of four staggered rows of at least 30 women. The room is surrounded by mirrors, but the one I am facing on the end is a smaller single pane—reflecting only me.
Warm up begins with lyrics about heavenly plans in the song Don't You Worry Child by Swedish House Mafia.
I begin to feel the rhythm as the lyrics of the song Feel Again by One Republic blare. We move in unison to the clapping and building beats, arms open and closed, stepping to the right side and then the left side.
A set of Timbaland, Flo Rida, and T-Pain songs play. The grapevines, pops, modified échappé sautés, and turns get us moving and our heart rates up.
Several women clap for the whole group as a song ends. We keep our bodies moving with step-together-step-together motion.
She calls us into a group circle for Kool & the Gang's Celebration. "Smile! Are you happy to be here? I'm happy you're here!"
A few of the regular ladies let out, "Woo-hooo!"
There are women of all ages, sizes, and backgrounds. All simply here to dance.
"This is a big circle in this room! I remember when we started and had only five people in the first class." Jenny was always full of enthusiasm even before she knew this class would become so popular.
"Who runs the world?" Jenny asks as staccato drum beats open the Beyoncé song Run the World (Girls). At the end of this Monday night, we bounce forward with the diva's rounded arms and trot in high steps back. Reclaiming something.
We pivot in place with one arm circling above our heads. She encourages us, "Ya'll look so awesome. Move those hips!"
Around the 45-minute mark, Morning After Dark by Timbaland and Nelly Furtado plays. Hidden in the lyrics, I hear the words I gotta little secret for ya.
These classes have been my secret—a peaceful meditation. For my spirit and for the dancer that lives within. The one who got married, moved to a new city, and has been pregnant, nursing, or both for the past six years straight.
During the slide to the side and snap move, Jenny announces, "If you have some attitude in ya', let it out!"
After a techno-ish track, a cha-cha, and another hip hop routine, it is time for the cool down to Justin Timberlake.
We stretch out, take it down, and roll up—fading back into our real lives.
Jenny asks, "Are you happy? Did I make you sweat?"
I am, and she did.
***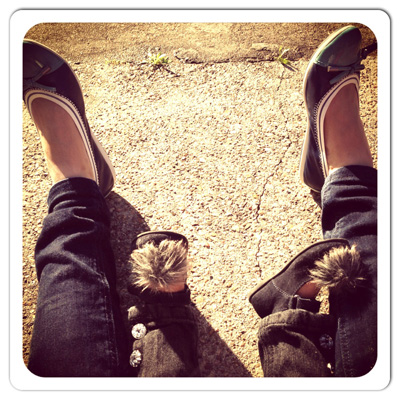 In the months before our wedding, I took three dance classes on Monday nights—hip hop, ballet, and jazz. For one night a week, I escaped into a world that might have been mine in another life.
In hip hop, I danced with girls much younger than myself. In ballet and jazz, I danced with women much older than myself. I was simply there to dance.
When Baby #2 started ballet dance class this fall, I realized that she had no idea I had ever danced in a class or on a stage. She had no idea that I ever dreamed of more and would still want to dance today.
On Tuesday morning, Baby #2 asks, "How was dance class, Momma? Did you sauté? Did you échappé?" She means échappé sauté from her ballet class.
"Yes, Baby, I did!"
"Good job, Momma! Did your teacher give this to you? Can I have it?" I put my glow-stick bracelet on her wrist.
Baby #2 turned 19 months old on the day Baby #3 was born. And now, Baby #3 is about the same age. This is the special time when our babies have emerged from the belief that we share an identity. No longer crying every time I leave their side.
From birth, I nurtured our natural bond through skin-to-skin contact, baby-led nursing, and nearly constant baby wearing. We became so attuned to one another, almost to exist as one.
The baby outgrows this brief phase naturally and has an entire world to explore. For me, that transition has coincided with a new baby each time until now.
This time, I anticipated feeling a sense of loss. No longer literally living for this other little being.
First with YMCA Zumba and then Night Club Cardio, I began leaving the house one night a week and saying I was going to dance class.
Gradually, with this identifiable and valuable purpose, the children became at ease with my departure and joyful upon my return.
Instead of leaving to tears of separation anxiety and returning to tears to prove they missed me, I left to encouraging smiles and returned to proud smiles.
Life is a series of reawakenings. This reawakening after having children has given me the gift of believing I can do absolutely anything. If I want it badly enough. And by seeing me, I hope our children will know to believe in themselves.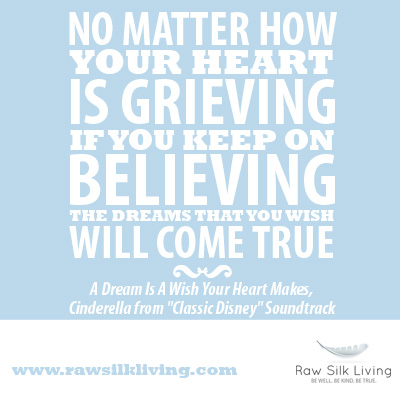 ***
This Wednesday morning, I had the DVR set to record our local NBC news affiliate because yesterday the anchors announced a public memorial for the four fallen firefighters would be held in Reliant Stadium and broadcast live.
I assumed, I would be busy balancing babies and a big work project. However, around 10 o'clock this morning, I was transfixed on a seemingly infinite line of parked fire trucks with their lights flashing and thousands of first responders in a procession.
I always lose my breath, cry, and then pray when I see funeral processions on the street. An instant, startling reminder that life is so very fragile. Breakable.
Humbling knowledge that no matter your worry that day, you are not in a procession.
There are a few of these that stand out in recent memory. The one I saw a few years ago on my way home from the airport after almost losing my dear brother. The one I saw at the church connected to the Day School on the last day of preschool.
And I will remember this one. For four Houston firefighters lost in a terrible blaze last Friday.
This morning, my first instinct was to turn the television off until later, but the images were not frightening or sensational. Just an amazing testament to good people. Truly heroic people.
I was happy for the opportunity for our children to see a celebration for firefighters.
After a welcoming of the families, an opening prayer, and a word from Governor Rick Perry, Mayor Annise Parker spoke.
Words about anticipating loss. Loss still coming all too soon. About the families. Their grief. And each firefighter.
She honored all four firefighters. Beginning with the young female hero, she said:
Here's what I have learned in the past few days. I know that Anne Sullivan, Punky, wanted to be a firefighter more than anything. And not just a firefighter. She wanted to be a Houston firefighter. And you know, at five-foot-two—which I think was a little bit of a stretch—but at five-foot-two she had to be tougher and stronger and more determined than anyone in order to get through that academy and get out there and get on that apparatus. You have to be proud of that strength.
***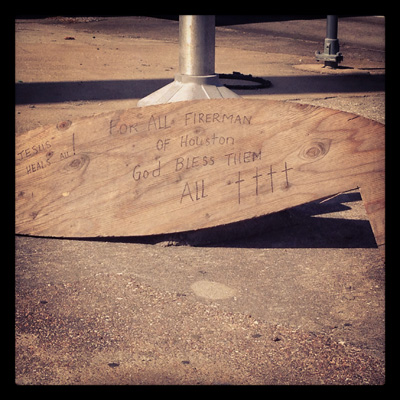 On our way home from the first Wednesday night swimming lessons of the summer, I hoped to see the lady standing on the corner. I have not seen her in weeks because we have not been driving our regular route home from Day School during a brief summer break.
She was not there when we stopped at the red light. In her place, she had left a piece of her artwork.
Written in black permanent marker on a remnant of wood, she shared the words: FOR ALL FIREMAN OF HOUSTON GOD BLESS THEM ALL. There was a cross for each of the four young firefighters Houston lost last Friday, May 31, 2013.
This evening, we added firefighters and police officers to our daily prayers. I am sorry that they were not there before, but they have a special place now between our little super-hero friend who is so brave and all the pets and babies in the world.
I will always remember the words spoken by the mother of Anne Sullivan at the memorial, "God bless my beautiful baby girl, Anne."
***
At mass today, we sat separately because the cry room was almost full. I held Baby #3 and Daddy sat with Baby #1 and Baby #2.
Baby #3 was still and peaceful throughout the readings and homily, except for the slight movement of her hand steadily stroking my arm.
The choir sang a soothing Responsorial Psalm with the lyrics I will praise you, Lord, for you have rescued me…You changed my mourning into dancing.
Baby #2 tip-toed over to visit Baby #3 just after the Gospel reading. She told her in a sweet and clear voice, "Baba, if you cry, I am here for you."
Why do we ever stop saying these sincere words to one another? To the ones we know the best and love the most?
My eyes filled with tears during the homily as Father spoke poignantly and through his own tears about losing his twin brother many years ago. About how people feel God is no longer apparent in the midst of such profound loss.
He reminded us that it is in those moments of suffering that no human offering could help. Only God can help.
As we live on joyfully, we are going toward the loved one we have lost. They are waiting for us. And they want us to do everything to live a full and joyful life, helping us move forward and toward them.
As we processed for Communion, I sang along with the choir the words to a favorite hymn sung often at my childhood church—I Am the Bread of Life.
I am the Bread of life,

He who comes to Me shall not hunger,

He who believes in Me shall not thirst.

No one can come to Me

Unless the Father beckons.


And I will raise him up,

And I will raise him up,
And I will raise him up on the last day.
In loss, in almost-loss, in the anticipation of loss, we must not lose faith and hope. We must celebrate the life that we have with joy. Look at our own reflection, live out our own calling, and tell our own loved ones if you cry I am here.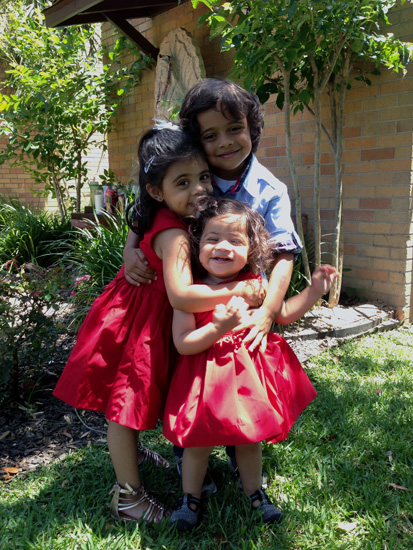 I am so happy you are here. Don't miss future articles! Be sure to sign up for our RSS feed. Let's be friends on Facebook too!