It is the morning of the first day of summer Mother's Day Out at Day School—Baby #3's first official half-day outside of the home.
Since the last day of preschool, last day of Bird Class at the Little Gym, dance recital day, and gymnastics awards day, the weeks have been filled with new first days of basketball, Hip Hop Class, swimming lessons, and home and work projects.
Last night, I labeled a tote bag, diapers, and change of clothes with Baby #3's full four-syllable name.
I wish to write that the E is the Spanish pronounciation that sounds like A because that is how we softly say her name meaning bearer of good news.
If it is shortened from ten letters to three, please still use the A sound.
I open a brown paper sack packed with her favorite foods and slip in a square white notepaper with we-heart-you written under a drawing of her heart-shaped face.
Target is still my intended destination before Day School drop off, so she knows we care to buy her a proper lunch box and she has what she needs from the very first day.
On the drive to Target at 8:50 a.m., Mirrors is playing on the radio. Daddy stays in the minivan with all three babies, promising to play some Old Justin Timberlake while I am inside.
I speed-walk to the back of the store between the fitness aisle and the pool toy aisle. In the camping equipment aisle, I find lunch boxes.
Although not quite the babyish design I envisioned, the light pink Disney Princess insulated lunch box does include the new princess, Miranda from Brave.
Will Baby #3 actually eat the grilled turkey with provolone sandwich and pre-sliced banana? She should at least eat her yogurt.
On my way to the checkout lane, I grab a new banana, Go-Go Squeez applesauce pouch, and a small cardboard carton of Pepperidge Farm Goldfish Crackers to add more to the plentiful Ziplock snack baggie I already prepared.
***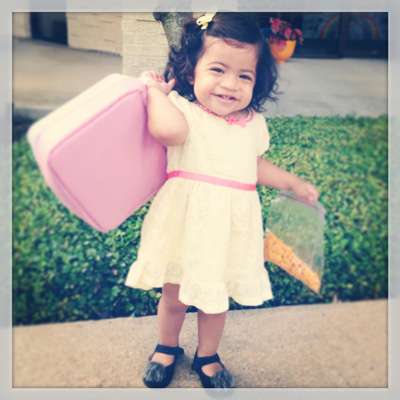 On that first day, Baby #3 had posed gleefully for a photo outside Day School.
Once inside, she realized the very different reality of leaving me. She clung to my body like a koala bear and cried soulfully.
During these first weeks of Tuesdays and Thursdays, she has eaten nothing for snack or lunch in her classroom.
She has refused help even from her favorite teachers—whom she gradually came to know and love over 21 months of Day School drop offs and pick ups for Baby #1 and Baby #2.
Her sole calming practice has been to hold the Disney Princess lunch box in her hand, insistent even during nap time.
At Day School pick up, she has run so excitedly toward me that both feet have left the ground between steps. "Momma! Momma! Momma! … Momma! Momma! Momma!"
Her first few Daily Written Reports were marked did not eat today, fussy, happy, and quiet.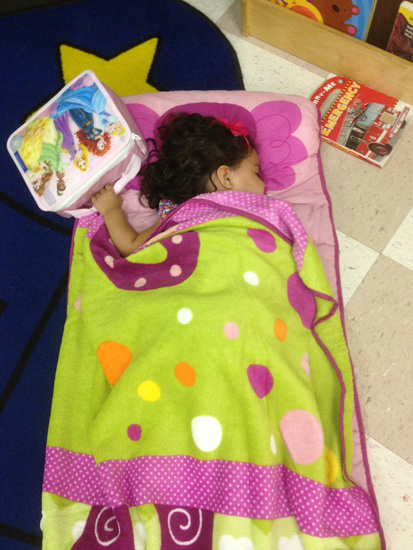 As I have done two times before to help our babies transition to Day School, last night we read Llama Llama Misses Mama.
Baby #3 was sitting up on her knees with her hands in her lap.
Mama. Llama. Mama. Llama. She pointed at every picture as I turned the pages.
"What's this called?" she asked pointing to an adult zebra.
"That is Llama's teacher. Like your teacher. You love your teacher and your teacher loves you. You have fun. And Momma always comes back."
Baby #3 had a hereditary look of concern on her brow and seriousness around her mouth.
Baby #2 asked, "Momma, tomorrow will you hug me at school before I go into my class?… Like you always do?"
Baby #1 was silently nodding to himself as I closed the book and he crawled into his bed.
***
It is the third Thursday of summer Mother's Day Out at Day School. I hold Baby #3 in my left arm while I use my right hand to replenish her supply of diapers, place her banana and milk box in the snack basket, slide her lunch box onto the shelf, hang her tote bag on the hook in her cubby, and tuck in her nap mat.
I write 9:30 a.m. on the In box of the Sign In/Out Sheet and initial snj.
Three of her teachers greet us with delight at the classroom door. They seem to will a peaceful transition with their cheerful inflection and assuring smiles.
Baby #3 has a serious sad look.
Baby #1 taught me that a serious look does not mean he does not feel like crying. Baby #2 taught me that saying don't cry turns a sad look into obediently holding back tears and turning blue.
I came to realize that they need to hear, "It's okay to cry. I know you are sad. I am always here."
I mention how we read Llama Llama Misses Mama and that she understood.
Her teacher says, "Oh yes, yes, she does understand. She is so smart—so smart!"
I set Baby #3 down to stand next to her big sister. She reaches up for her teacher at the door.
I look down to my left and take Baby #2's hand. She exhales a hushed, "She didn't cry!"
At the door of Baby #2's classroom, I help her put away her snack, lunch box, tote bag, and nap mat. She no longer needs diapers.
We have our hug, and I convince her it is okay to go potty at school.
It seems like yesterday that she tried to crawl out of her first Mother's Day Out classroom at Day School. Today she skip-walks into the room to go wash her hands at the miniature sink before starting the day with play dough—her favorite.
When we reach the end of the hallway near the side EXIT-only door, Baby #1 begins to unload his tote bag. He has a particular method of preparing for the morning—like a silent less animated version of Mr. Rogers with his shoes-cardigan-hanger ritual.
Baby #1 tosses his banana and milk box into the snack basket, slips his lunch onto the shelf, straightens the two handles of his tote, and hangs it on the hook in his cubby. He no longer needs a nap mat.
As I chat with one of his teachers about his kindergarten play date coming up this week, I do not have any tasks.
Baby #1 walks through the classroom door, but turns back for our hug.
Walking out of the school to the minivan with no baby in my arms makes me feel like I have forgotten something. Or lost something. Or dropped something precious. After a few weeks of summer Mother's Day Out, I still feel a little wave of panic.
I have not had that feeling of wanting to dance barefoot down the sidewalk and twirl my skirt. I have only had the feeling of wanting to go back inside and watch their day.
I am hurried along by the reality that I must get the most out of the hours ahead, so I can be more Stay-at-Home mama and less Work-from-Home mama by the time they come home.
When I return at pick up, Baby #3's Daily Written Report is marked ate just a little, active, happy, independent, and talkative.

Eva really enjoyed going up the stairs and down the slide of the playground multiple times, all by herself!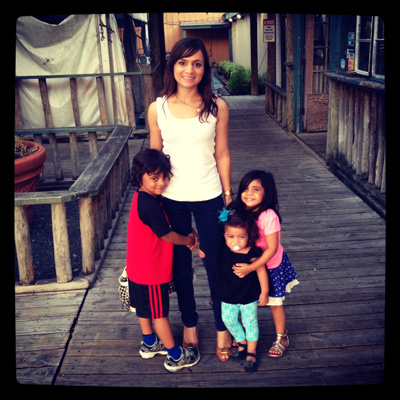 ***
I felt a sadness this Tuesday morning. It came from nowhere as it sometimes does. I have been told it is a hereditary sense.
A peaceful prayer was my calming practice until afternoon when I saw Ellen's Facebook post: she was very sad to lose her friend.
On her show last year, Ellen introduced the world to Talia, a 13-year-old girl who posted YouTube videos as a make-up artist. She was battling cancer and called makeup her wig.
Makeup was her passion—a gift she shared with a message of hope. This was her brilliance.
During her first appearance on The Ellen Show, Talia asked Ellen why anyone would want to be depressed and said that a little fishy told her to just keep on swimming.
A few days ago, Ellen tweeted that she was praying for her friend Talia. I searched for more information and found Talia's Facebook fans were chronicling her recent days in the hospital.
There were photos of her bucket list, prayer vigils, and her mother, sister, and dog by her side.
One photo captured Talia laying back into the lap of a woman in a bedside chair. They rested with no space between them, as close as two souls could be.
***
It is just after lunch on this Friday. I am leaving Baby #1 and Baby #2 with their cookies in the kitchen. Grandpa had sent home three of the large chocolate chip cookies they love to bake together.
As I carry Baby #3 to her nursery, she is saying, "Cooo-key? Cooo-key. Cooo-key!" Each time with a different inflection. As if she was offering me a suggestion, telling me a secret, or giving me a surprise.
She smiles and giggles while I talk to her and change her diaper on the nursery floor. She lets me indulge in my favorite treat—snuggling and nibbling on her chin and neck in a way that creates pure belly laughs, smiling eyes, and baby hiccups.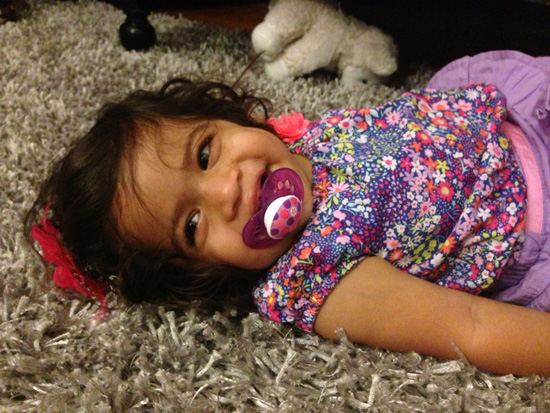 As I pass the sun room on the way back to the kitchen, I exclaim, "It's raining!"
With the week of 108-degree afternoons, Houston has been praying for a good heavy rain shower.
The chairs in the kitchen are empty, and only crumbs remain on the napkins.
Baby #1 and Baby #2 have donned their rain coats and rain boots.
Like their favorite characters Caillou and Rosie, they are boisterously marching around in the middle of the kitchen, pumping their open umbrellas up and down in the air.
They plead to go outside and splash in the puddles like they did one rainy day last year.
Baby #3 reminds me, "Cooo-key—"
I buckle her into her pink and brown high chair, place the white tray over her lap, and hand her the cookie. She holds it, admires it, and smiles, "Cooo-key."
She still needs to take her nap after this rare lunch dessert.
I begin to unload the dishwasher.
Baby #1 and Baby #2 retreat to the office window to watch the rain.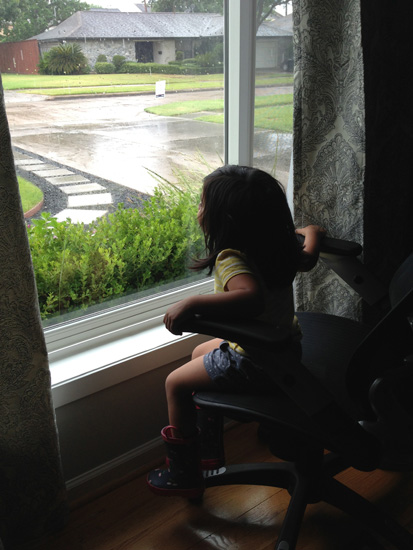 Every time I glance at Baby #3, she gives me a chocolatey smile and says, "Cooo-key."
As I finish reloading the dishwasher, she raises her messy palms toward me and says, "Hands."
I stand her up in the seat and brush the crumbs off her dress. Face to face, I ask, "Cookie finished?"
"Mm-hmm."
"Was it nummini?" We use their mispronunciations for our own sake before they slip away into memory.
"Cooo-key nummini nummini. Mmmm."
I carry her facing away from me to the empty kitchen sink.
At least today, she still needs me to lift and help her. She likes to wash her hands, but she does not yet insist on doing it all by herself.
I turn on the tap and test the water temperature with my wrist.
As I help her, the calming water whispers to me. I suddenly notice the smallness, softness, and babyness of her hands.
This one day is mine to serve her with the love she needs. To feel her closeness. To hold a miracle in my hands.
Baby #1 and Baby #2 return to the kitchen and ask again to go outside. They run their hands up and down my legs and wrap their arms around my waist.
It is just past 11:30 a.m., nap time for Baby #3.
I lay her down in her crib almost asleep. Tiptoeing out of the nursery, I am trying to avoid the creeks in the old hardwood floors but hurrying so we do not miss the rain.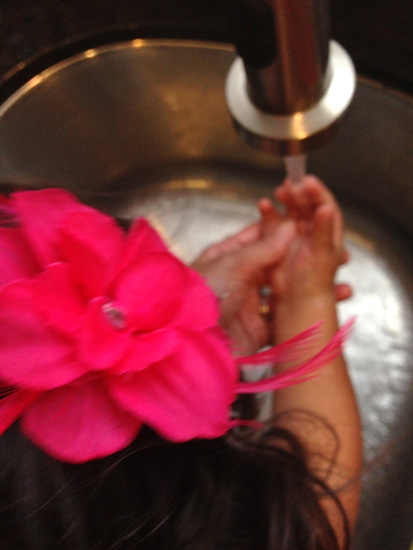 Each day we must choose to see soul to soul. Love soul to soul. Serve soul to soul.
If we are all stripped bare of the things that make us the person we are on this earth, we are all the same. Already made more beautiful by God than our eyes can behold.
We are all here to share our brilliance and touch other people. To recognize beauty and brilliance in another.
When we have the chance today, we must dance in the rain, splash in a puddle, and get mud on our boots.
We must understand that there is no other day than this day to be as close as possible.
The one day we have to hold in our hands.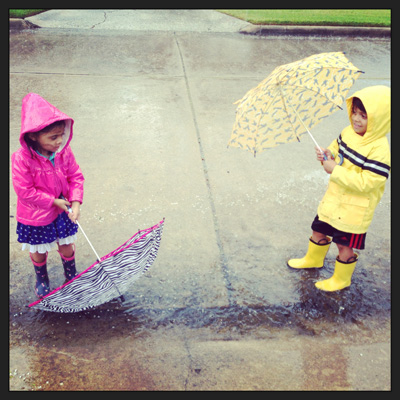 ***
It was May 9, 1998 in Austin, Texas at a student housing apartment in West Campus of The University of Texas at Austin.
I was staying in town with friends for one day because I had been exhausted while driving home to Bulverde from a graduation near Dallas.
When I awoke from a long nap, the apartment was silent. I entered the living room expecting to find no one.
At almost the same time, a boy entered from the kitchen.
Hey…person I don't know…I'm Shervin.
Hi…nice to meet you…I'm Sarah.
Seeing his heart-shaped face for the first time felt like a divine introduction.
Something in his wide smile seemed to begin in his soul, shine through his eyes, and make something in me come to life.
In the way that teenage college kids do, we spent a spontaneous day together and eventually reunited with our mutual friends some time after dark.
Saturday nights were about apartment parties, tank tops worn with black pants, clubbing shirts worn with wide-leg jeans, and late-night bites to eat.
On that Saturday night, we found ourselves at a Riverside Drive apartment clubhouse for a birthday party.
He stayed near me so I would not be alone. I did not tell him I actually already knew many of the people there.
We sat side by side atop a wooden picnic table the whole night—so close our shoulders touched as we talked in the moonlight.
Sharing our life stories across the hours of one day and late into night felt like filling in only a brief separation with someone I had always known.
He was already studying management information systems at the College of Business Administration. I was transferring from Boston University to study psychology and sociology at the College of Liberal Arts in the fall.
When morning came again, I would have to drive home to Bulverde, where I would spend my last summer at home with my parents.
Our one day and only night faded into a parting.
Letting go was the beginning of a prayer.
That we might one day see, love, and serve soul to soul.
That there was no other way, no other one.

Before I left the next morning, the boy called to tell me he hoped I would have a good summer. He spoke his last few words like a vow—
I'll see you again.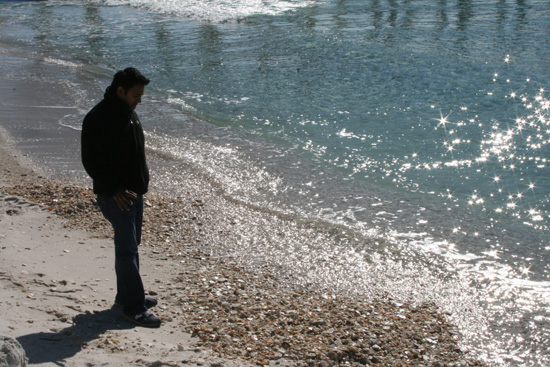 Please be in touch for Part III of this story, One Day to Hold.
I am so happy you are here. Don't miss future stories! Be sure to sign up for our RSS feed. Let's be friends on Facebook too!