On August 10, 2013 at 9:00 a.m., Baby #1 played the final game of his first YMCA basketball season, concluding a storybook season, a season spent pursuing a passion that flowed through him like a river, a river that moved him, a movement that his body already knew like a dance.
The love and support of family, friends, coaches, teammates, and strangers who happened to see him play had fed an energy, a boundless energy that we have always seen in him, a powerful energy revealing undeniable purpose, an infectious energy that amplified itself and echoed in every one of us.
This new chapter in his lifelong love of sports began when his Dear Uncle gave him and his sisters a real basketball goal as a combined Christmas and birthday gift, a gift intended as something that would last a lifetime.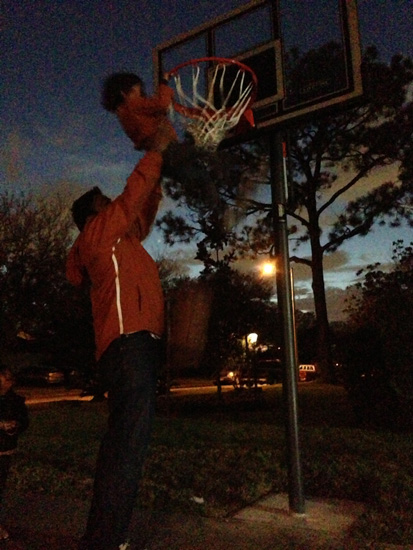 When Baby #1 took hold of the rim for the first time, he caught the tail of a new dream, one that would require us as careful guides, consciously fostering his changing needs by watching, shaping, encouraging, challenging, sheltering, and inspiring.
We were at times simply among the witnesses, observers like a dear teammate's dad who called Baby #1 a basketball savant, the grandmother of an opposing team's player who stopped to tell us he is something special, a referee who found us after the game to ask if he was our son and say, Man, that boy cold, he cold!, a talented employee in the Adidas store who heard Baby #1 dribble and gave him an impromptu tutorial that will inspire him for years to come—all encounters that left us in awe, all praise kept quiet from him, as he would not yet understand nor need to hear.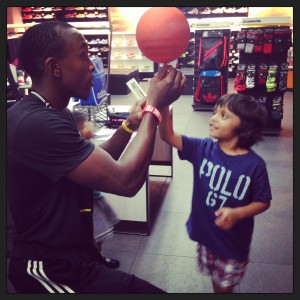 During independent activity time at school, he began to write books about basketball, including his favorite players, their numbers, and their skills. Through the telling of those stories, he developed one precise dream—grow up to become an NBA basketball player.
We spent the spring and summer nurturing his natural interest in basketball, talking about professional basketball players from all eras and teams, collecting basketball cards one eight-pack at a time, watching YouTube videos of NBA drills, following the NBA Finals, even attending the Spurs Finals Game 5, and focusing on the integrity of team leader Tim Duncan, the skill of point guard Tony Parker, the discipline of role model James Harden, and our long-time example of how Calvin Murphy, member of The Naismith Memorial Basketball Hall of Fame, was told his whole life that he was too small to play basketball.
We grew in grace and gratitude as parents, devoting the time and effort to help our still very young son embark on a journey, hoping that all of our encouragement and praise was well-tempered with our emphasis on enjoying the game and believing in himself, praying that he understood big dreams, hard work, and good sportsmanship matter the most.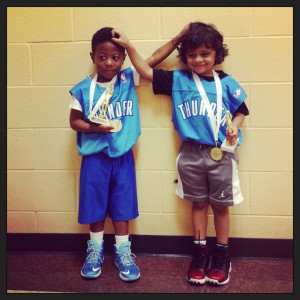 The YMCA PreK-K Thunder team lost more games than we won, often outmatched in size, never outmatched in heart, led by coaches who preached can, carried by a spirit of determination that meant dribbling when other teams just ran and trying when other teams fouled hard, delivered to a new level of skill and confidence, blessed with true friendship marked by a special salute the boys called the scrub.
The final game was an epic saga of excellent play, tough quarters, rough competitors, Daddy coaching on the sideline, Dear Uncle there in the stands, and a heart-pounding conclusion. Still ever hopeful and never assuming that he had worked hard enough to earn the trophy his heart so deeply wanted all season, Baby #1 walked off the court out of breath and sweetly asked a single question, "Did we win?"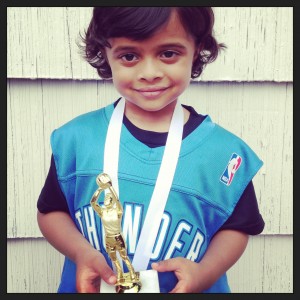 If you missed the basketball stories of 2013 or just want to watch all over again, here is a list of links in chronological order:
Raising Saints, Poets, and Point Guards
Smallest Biggest Spurs Fan (Part II)
Living and Breathing Basketball
Smallest Biggest Spurs Fan (Part III)
I am so happy you are here! Please do not miss future stories…be sure to sign up for our RSS feed. Let's be friends on Facebook too!