Five years ago, on 1/15 at 1:15 p.m., our baby boy made us parents. While I cannot distill the meaning of motherhood and parenting into a few simple lessons, I have learned about perspective, about holding on, and about letting go. Even when the early moments of parenting feel blurry or faded, love is all you need.
I learned the beginnings of most of these lessons from my grandfather, who lived in India. One evening while I was pregnant with our son, we called him to share our good news. As he spoke, I recorded his words in my mind, silently repeating them so as not to forget. When I got off the phone, I raced to my room to jot down his words, as I had done after each of our rare and meaningful conversations.
When our son was born months later, I planned to change every diaper I could, nurse as long as I could, hold him as much and as often as I could, kiss him too much, smell him, watch him sleep, discover him, and listen to him. Knowing one day he would be too big for almost everything on my list, I never worried much about pushing him from one stage to the next—bottles, pacifiers, and diapers rarely make it to kindergarten. However, I sometimes worried about what I might forget in the blur. Then, we took this blurry photo in a dimly lit corner of a restaurant when our son was 10 months old.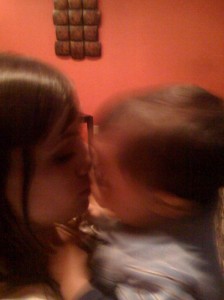 In the actual moment, we were on a distracting excursion away from our main party while dining out past bedtime. We might have ordinarily deleted the blurry image. Yet, I saw something. It was what we had been creating while living "the blur" of amazing, regular, exciting, exhausting, happy, and difficult moments as a growing family. Love is in the blur.
I remembered that photo as we had two little girls in just a few short years. More blur. More love.
Just before the birth of our third baby in fall 2011, we were preparing to move. As I looked at a daunting pile of papers thrown in a keepsake box, I contemplated letting it all go. After all, I could not hang on to everything. Our memories were more than little scraps of paper. But something in me decided to go through the effort and sort those papers.
The last piece stuck to the bottom of the box was a Buc-cee's receipt, so worn it was almost blank. Tossing it in the trash pile, I noticed a few words scribbled on the back. As I deciphered the fading pencil, I realized they were my late grandfather's words.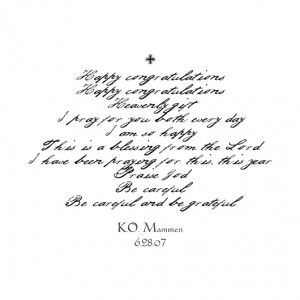 His faded words reminded me that, from the very beginning, even before birth, parenting is a gentle mix of lessons. The things that we think are important. What we hold on to. What we must release. And what makes its way back to us.
So much is sacred. So much is fleeting.
On our five-year-old's birthday, we're pausing to recognize every little thing about him, like—being nose to nose with him in the restaurant bar, how his first animal sound was donkey and we can still hear it at the end of a good belly laugh, the way Kanye West's "Heartless" used to immediately soothe him on a long car ride home, the invention of "party pants" during intense two-year-old wardrobe negotiations, the way he would respond to hot food and say "pi-cey!," the Christmas at the ER, the Thanksgiving with his first black eye, the way he gave the cutest nicknames to family, the way he has always wanted everyone in the same room doing the same thing together, the way Llama, Llama Misses Mama solved his first heartbreak, the way he always had trouble sleeping, the way he adopts my phrases like "just in case," the way he takes things like parades and masterpieces seriously, the way he is always prepared, his super strength and speed, the way he will cheer for both sports teams just to double his chances to celebrate, how he never met a problem he couldn't solve with a little logic and a big heart, the way he started eating broccoli last night, his serious face, his silly face, his dance moves, the way he dresses like Daddy, what an amazing big brother he is, his mature conversations, the way he loves.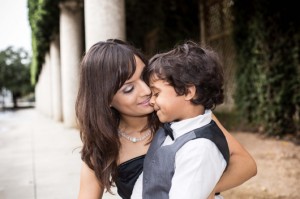 In our new home, I framed my grandfather's words and placed them at the center of our mantle. Not missed or taken for granted. Love is in faded words.
Since that first blurry photo, I have saved quite a few blurry photos. In all their imperfection and beauty, those blurry moments contain so much life. Love is in the blur.
We hope to see you on Facebook! Be sure to sign up for our RSS feed, so you don't miss future articles. Please leave a Comment below and Share if you liked this article.