The topic "Coping with the Loss of a Pet" was scheduled for an upcoming article on our editorial calendar. However, rather than wait for that informational article, today I want to speak from the heart.
Nothing can prepare us for the heartbreak of loss. Whether a sudden or long goodbye, we are never ready. The day we lose someone we love, time stops. We hurt; we mourn. Loss has come before and will come again, but the first time we experience grief in front of our young children marks a deep and enduring moment. Often, this moment comes with the loss of a family pet.
Our family is in this midst of this moment. On Sunday, we lost our beloved cat, Marci.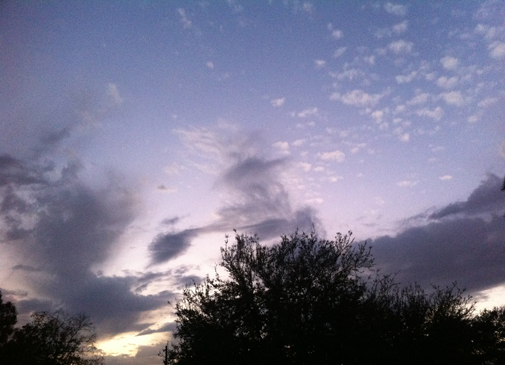 I had always called Marci "Mama" because she had a litter of kittens before she was even six months old. In fact, it was a flier for her kittens that led me to find her. Marci became my friend, my confidante, my companion, my heart as I traversed through some of the most joyous and most sorrowful times throughout the past 12 years.
In her rare and gentle way, Marci has played a special role each time we brought home a new baby. She held constant vigil over each newborn, carefully guarding the infants, especially when new people held them. She was a mama.
As each baby grew from bassinet, to tummy time, to crawling and walking, she patiently accepted their unbridled love. Their full-body hugs. Their gentle tugs. Their tendency to pick her up and move her. She was a princess of patience.
Marci always posed like a lady, paws crossed in front. She never met a person she didn't love. And, even if you weren't a cat person, you went away loving her.
This Sunday, Marci suddenly became gravely ill. I rushed her to the Veterinary Emergency Clinic with hope. I quickly met devastation.
I sat and held Marci wrapped in a pink blanket for almost four hours. As I wept, I told her about our story from the very first day. No longer able to purr, she began to make a sweet cooing sound. Looking into her eyes, I knew she heard me and remembered.
Our parting was a peaceful gift. I feel that she left when she had done all that she was meant to do.
As I had worried, our children awoke on Monday morning immediately asking for Marci. We did not have a special book on the loss of a pet. We did not want to send them off to school with broken hearts. We did not want to ignore or distract them. So, we took a family day.
We had a pleasant lunch at a favorite family restaurant. Then, we went to a frozen yogurt shop and picked flavors and toppings. We shared our treats and enjoyed each other.
As I prepared to find the words to share, I stood up, went around the table, and gave each of my babies a kiss. Innocence is a gift.
Baby #3 was napping, so we put Baby #1 on Daddy's lap and Baby #2 on my lap. They instantly embraced us in a family hug.
Huddled close together in that yogurt shop, I began with what they knew. Marci had not been feeling well. They nodded. Then, the tears began to flow as I shared how the doctor could not make her better. I spoke about heaven as we believe it.
Their lips trembled. We hugged them tighter.
They asked questions. We answered gently and honestly.
They worried about their dog, Jesse. We made plans to go home and play with him.
As the days pass, they keep saying little words with immense meaning. We keep listening and loving.
Baby #2 does not have a deep understanding, as she is not yet three years old. Her comments have been simple: "I miss Marci…" Peaceful: "Marci is not sick anymore." Deep: "Where is heaven?" Innocent, hopeful, heartbreaking: "Maybe when you pick me up from school, we can go in the car and you can drive us to heaven to get Marci."
Baby #1 understands more. Last year, after a trip to the vet with our animals, he said, "Madelyn's dog died. Madelyn's grandfather died…. I didn't know pets could die."
Then, this summer, we lost my parents' dog, Marco. Since the age of seven months, Baby #1 had a special ritual for feeding Marco with his Papa. We relied on Marley & Me books and careful words to tell him the news. The sadness around his little mouth was sadder than any tears I have seen.
As we put Baby #1 to bed on Monday night, he had that certain look around his mouth again. It is a look only a mother would know. It is a look of being brave. You see, boys especially can learn this at such a young age. I embraced him and whispered against his warm cheek. It is okay to cry. I will be here for you always.
For now, he chooses to focus on actions. "What will we do with Marci's stocking? We should fill it with everything she loved….What will we do for Marci's birthday? We should play games."
Each in their own way, both Baby #1 and Baby #2 are trying to fix it. Make it better. Scrapbooking, telling stories, placing a cat charm on my bracelet, and playing with Jesse are all ways we are trying to help them cope.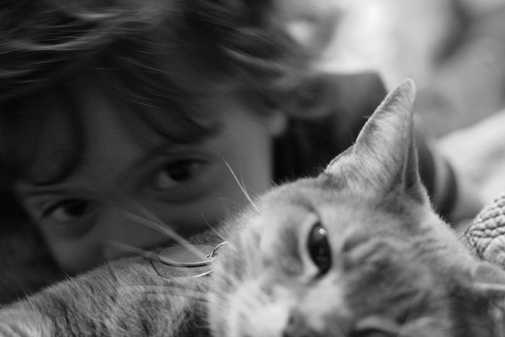 As adults, we still do not have answers. Yet, we can celebrate Marci for everything she gave to us. Here are a few of life's secrets from Marci:
To be a good mama, love your babies until it hurts.
Care not about belongings. Belong to those you love.
Cuddle as close as you can every night.
Savor fresh air and sunlight.
Escape once in a while, but always come back home.
Always and everywhere, be yourself.
Trust your instincts when it comes to health (and almost everything else important).
Most baby behaviors have a logical cause. Most others can be excused—after all they're babies.
Don't let anything stand between you and your children's well-being.
A quiet purr can be the deepest.
As we continue to help our own children, my advice to others who have lost a pet is to listen to the very words your children say. Honor the innocence and wisdom within them. They will tell you what they need. You may find healing together.
"Listen earnestly to anything [your children] want to tell you, no matter what. If you don't listen eagerly to the little stuff when they are little, they won't tell you the big stuff when they are big, because to them all of it has always been big stuff." — Catherine M. Wallace
Marci, you are ever ours.
Sleep in heavenly peace.
I am so glad you are here. Don't miss future articles! Be sure to sign up for our RSS feed. Let's be friends on Facebook too!