Buddhism for Mothers of Young Children: Becoming a Mindful Parent is like an honest conversation with a wise friend—author and mother of two Sarah Napthali. Not pretending to offer universal answers, Napthali invites parents to become mindful in their own journey and find peace in "not knowing." Although she directly addresses mothers, this book pertains to the paths of mothers and fathers.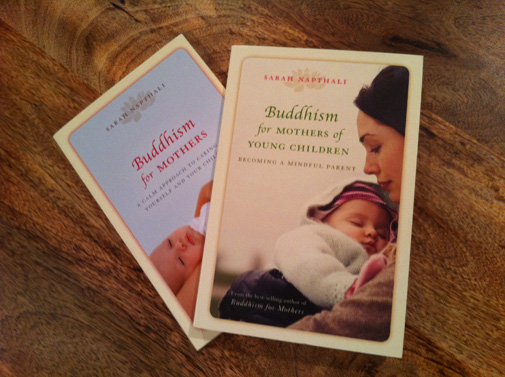 Emerging from the hazy days of diapering, breastfeeding, and holding babies, Napthali addresses both deep questions and everyday challenges of raising young children to become good human beings. With an informed, honest, non-judgmental voice, she draws from the broad teachings and principles of Buddhism.
Her Zen Master? Youngest son, four-year-old Alex.
Napthali writes from the perspective of a mother who knows the complexities and distractions of a busy, successful life. She validates the challenge of finding peace of mind amidst the natural chaos of raising young children:
"By the time we have children, many of us have become so achievement-oriented, so goal-driven, so addicted to busyness that we lose our ability to relax along with our capacity to notice what is going on in the now."
Interweaving the diverse perspectives of other mothers and great Buddhist teachers like the Dalai Lama, Napthali shares real experiences and emotions in compelling detail. No matter what your religious affiliation, marital status, or career path, Napthali empowers all parents:
"This is not to say that we find instant answers to our questions, or that this book will tell you what your answers are. Even the answers we do find might change over time. Rather, these questions are our life's work. We learn to treasure the questions, keep them at the forefront of our minds, and allow them to keep us open and curious in our daily lives. Buddhists cultivate a lifelong spirit of inquiry rather than any presumption that we are already wise."
Napthali cautions against the tendency of parents to try to solve "the puzzle of who our children are." The strategies that we develop for success in our individual education and career do not necessarily translate into predictable, desired outcomes in childrearing. She suggests instead for us to see our child's innate goodness and point of view with a loving approach:
"We can start by shifting our focus from what we want them to eventually be and pay attention to who they are right now. We shift our focus from all the potential pitfalls ahead and focus on who they are in the present at this wondrous stage in their development. We spend time with them, we listen to them, we watch them. We help them discover and explore what interests them. We look out for what makes them happy, always open to the fact that what we find may not reflect our own passions."
Because of the subtle nature of the discussion and the evolving nature of one's parent identity, this book is worth returning to again and again. One must interpret the nuances of Buddhist teachings and principles as they apply to individual experience and personal beliefs.
Buddhism for Mothers of Young Children: Becoming a Mindful Parent, the second in a three-book series, offers how-to examples for mindful parenting that can be put into practice today. A pleasantly light read, with a profound personal impact!
What daily parenting challenges create anxiety for you, and what philosophy helps you appreciate the moment? Please leave a Comment below and Share if you liked this article.