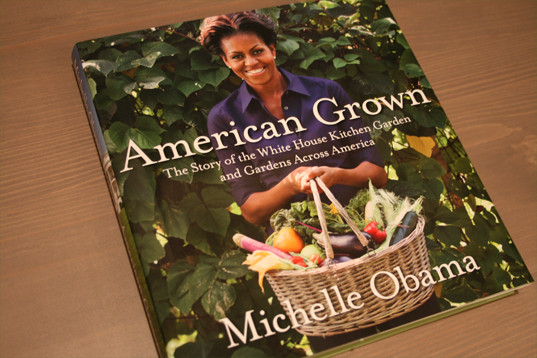 American Grown: The Story of the White House Kitchen Garden and Gardens Across America by Michelle Obama is a book to share with your children and leave on the coffee table year-round. While part gardening book and part cookbook, this is equally a storybook and picture book.
Presented in seasons, Spring, Summer, Fall, and Winter, Michelle Obama shares the story of the White House Kitchen Garden from design to harvest, keeping children central to every stage. In addition, she presents many historical facts about victory gardens and White House gardens.
With a nostalgic feel, the book makes gardening accessible to families. Whether you are planting a windowsill herb garden or a full vegetable garden in the ground, the book shows how starting somewhere meaningful to you will lead to future goals.
This book is an ideal parent handbook for including children in gardening in a real, meaningful, and fruitful way. Children naturally love to help and work hard. They can also be wonderfully patient as they tend a garden and await the first harvest.
Michelle Obama shares the garden stories of many Americans in communities and schools across the country. All children have the ability to learn these hands-on lessons. Check out our Video Gallery to learn about a Girl Scout troop that visited the White House Kitchen Garden. And please leave a Comment or click here to: send us your garden story!
Great Quotes from 'American Grown'
"It is my hope that our garden's story—and the stories of gardens across America—will inspire families, schools, and communities to try their own hand at gardening and enjoy all the gifts of health, discovery, and connection a garden can bring." ~Michelle Obama (page 19)
"…the failure of one thing repaired by the success of another; and instead of one harvest, a continued one throughout the year." ~Thomas Jefferson, The quote that serves as the guiding principle of the White House Kitchen Garden (page 26)
"I've always believed that kids learn the most when they're least afraid of making mistakes and they have the support they need to try, fail, and try again. I want them to think: It's a plant, it's dirt, so don't be afraid; you can't ruin anything here, there isn't anything that can't be redone." ~Michelle Obama (page 55)
"I think about the garden project as a model for being gentle: gentle with nature, gentle to your body, and gentle with each other." ~Elementary student who helped in the White House Kitchen Garden (page 56)
"Just as each seed we plant has the potential to become something extraordinary, so does every child." ~Michelle Obama (page 23)