The unimaginable tragedy at Sandy Hook reminds us we are all one.
We must only see one another. Recognize one another. Love one another.
Find hope in one another.
Yet, we have questions. How do we find this hope in the midst of our profound grief?
When words do not seem adequate, names resound.
In his remarks at the Sandy Hook prayer vigil, President Barack Obama cited scripture and shared heartfelt words as a father. Still, perhaps most powerful was President Obama's reading of the 20 children's names:
"Charlotte. Daniel. Olivia. Josephine. Ana. Dylan. Madeleine. Catherine. Chase. Jesse. James. Grace. Emilie. Jack. Noah. Caroline. Jessica. Benjamin. Avielle. Allison.

For those of us who remain, let us find the strength to carry on, and make our country worthy of their memory."
More questions. How do we hold on to their memory?
When images overwhelm us, stories resound.
Alongside images of the unfathomable tragedy and poignant memorials, we now hear stories. Stories of vibrant little lives that held great promise.
Smiles, laughter, humor, the way they lit up the room.
Bikes, soccer balls, lemonade stands, compassion, wisdom beyond years.
Favorite colors (like pink and purple), sports heroes (like Victor Cruz),  favorite foods (like hot chocolate and breakfast sandwiches).
Wishes to be old enough to sing on a stage and eat a foot-long sandwich at Subway, a streak of creativity, interest in the way things work mechanically, love of reading, love of horses, a pink holiday dress and white boots.
The sweet, the silly, the scouts and daisies, the faithful, the athletes, the spitfires, the dancers, the storytellers, the future architects, paleontologists, parents, and leaders.
A great big sister, an adoring little brother, a twin's best friend.
As our hearts break to know them just a little more, we still ask, how do we go on with hope?
When hearts cannot be consoled, hope resounds.
Rabbi Yehoshua Hect said that the funeral service of six-year-old Noah Pozner focused on a hopeful message:
"That the family needs to continue its life and the community needs to continue its life. And to live to honor the memory of this little boy and all the little children that were killed. By doing what we can to elevate and sanctify our lives each and every day. By recognizing each and every person."
[Washington Post]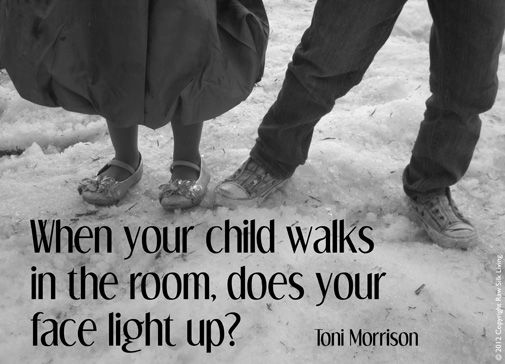 As parents, we will hug our children tighter.
May we also know them better. Take them in fully. Never turn them away.
Be their soft place to land. Honor the coexistence of wisdom and innocence within them.
Each and every day, delight in them. Find hope in every little bit of them. And always ask yourself:
"When your child walks in the room, does your face light up?" — Toni Morrison