Day 4: Upgrade Fuel
Considering basic nutrition, picky eating, what's in the pantry, and prep time, family food choices often result from "what works." In the midst of these challenges, making healthy choices for yourself at the grocery store will ensure you have the quality fuel you need to keep yourself running.
Changing one food at a time and working with your current recipes can be a manageable approach. Make simple swaps to upgrade your fuel:
Greens: arugula, kale, and baby spinach
Grains: quinoa, whole grain pasta, and brown rice
Oils: extra virgin olive oil, coconut oil, and safflower oil
In addition to these swaps, make a few simple additions:
Spices with anti-inflammatory properties, including turmeric, ginger, garlic, cinnamon, black pepper, and cayenne
Foods rich in Omega-3 fatty acids, including salmon, walnuts, flax seed, and hemp seed
Other seed varieties, including sesame, chia, and amaranth
For more information on making gradual dietary changes to achieve a healthy lifestyle, try these Good Reads:
What food swap will you make first? Please leave a Comment and be sure to mention the food you replaced!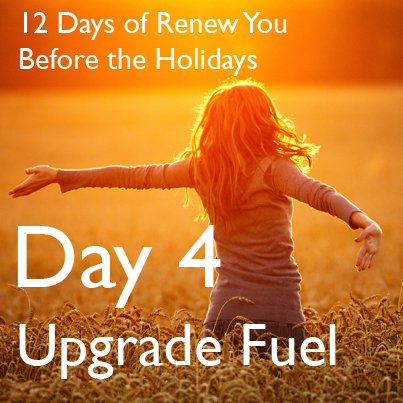 In case you missed the previous days: