May is Lupus Awareness Month. Awareness begins with personal stories. Thank you for your response to 'You Gotta Get Up and Try Try Try.'
We hope sharing this story helps others struggling with lupus or any other challenge. We all belong to each other. We are all the same.
On Sunday, May 5, 2013, we are running the Lupus Foundation of America – Texas Gulf Coast Chapter's Walk/5K to END Lupus NOW.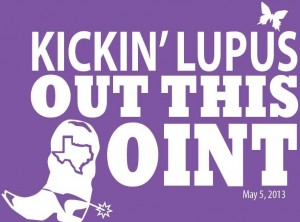 Our initially small and quiet effort to form a team with a good name, print a few T-shirts, and raise a little money and awareness has grown in ways we truly did not imagine.
Family and friends have joined our team, Kickin' Lupus Out This Joint, and have given so generously to help us raise $5,771 and counting—more than double our team fundraising goal.
From the kindest words and heartfelt prayers, to talent in designing our T-shirt, to the commitment to join the team, to every dollar donated, we are grateful for and humbled by every way you have shown your support.
All our love,
Shervin and Sarah
For those who are still learning about lupus:
The Lupus Foundation of America estimates that 1.5 million Americans, and at least five million people worldwide, have a form of lupus. Most will develop lupus between the ages of 15 and 44.
Systemic lupus accounts for approximately 70 percent of all cases of lupus. In approximately half of these cases, a major organ, such as the heart, lungs, kidneys or brain, will be affected.
There is no known cause or cure.
Increasing awareness among the public, medical community, insurance companies, and government agencies is vital. Even physicians are still growing in their understanding of how to diagnose and control the symptoms of lupus patients.
In approximately 10 percent of all cases, individuals will have symptoms and signs of more than one connective tissue disease, including lupus. A physician may use the term "overlap syndrome" or "mixed connective tissue disease" to describe the illness.
20 percent of people with lupus will have a parent or sibling who already has lupus or may develop lupus.
Many medications are not recommended for a woman who is planning a pregnancy, is currently pregnant, or is breast-feeding. Women with lupus should have every pregnancy closely monitored by their health care team, so that the safest decisions can be made about medication use and any other necessary treatments, both before, during, and after the birth.
According to the Lupus Research Institute, there has only been one drug approved for lupus in over 50 years (Benlysta™), and current options are often as toxic and damaging as the disease itself.
But unlike a decade or two ago, there is now real hope that safe new treatments will soon be introduced and approved by the FDA. Today there is "cautious optimism" on new drugs for lupus.
[All statistics reported directly by Lupus Foundation of America and Lupus Research Institute.]
I am so glad you are here. Don't miss future articles! Be sure to sign up for our RSS feed. Let's be friends on Facebook too!