When Baby #1 was two-and-a-half, he watched his first Disney movie, Toy Story. As the shooting star arched over Cinderella's castle in the intro, I whispered to him, "One day, we are going to go there." He looked at me wide eyed and exhaled, "yeahhh…"
Every time after, he would whisper our plan to the universe.
We always thought that "one day" would be during the school-age years when he and his sisters would be old enough to remember. Whenever they became the perfect age.
Then, just before Christmas last year, we lost our beloved cat, Marci. And our nation was mourning with the families of Newtown. We reflected on the idea of one day and embraced the gravity of today.
We had always marveled at our children at every age.
Perfect is our just-turned-five-year-old boy who loves Cars the movie and Buzz Lightyear. Wants to be a part of all the adult talk. Makes plans and follows maps. Has boundless energy and a great attention span.
Perfect is our last-few-days-of-two-year-old daughter who believes Cinderella is a real princess. Is becoming brave. Sings her own soundtrack to each day. Can articulate her needs and wishes.
Perfect is our barely 16-month-old baby girl who joyfully experiences new things with, "Yay!" and "Wow!" Dances to even the faintest music. And is acquiring new words by the minute, so she can share in the activity around her.
Our epiphany: Now is the time to go to Disney World.
Of course, no one needs to plan a trip to Disney World to appreciate their children. But we did reevaluate plans already in the making for two birthday parties and a family trip to New Orleans, all in the next two months. All of the effort was just diverting our energy and resources from our true needs and priorities. Delaying what could be real for us today instead of one day.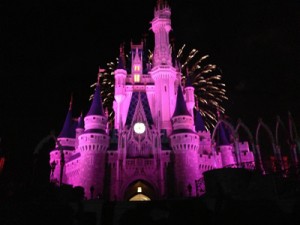 I was initially startled by the nearly universal reaction to our plan to drive our minivan with our three children under age five nearly 1,000 miles across five states for 17 hours in two days to Disney World: "You are brave!" We also received a fair amount of: "You must be crazy!"
After thinking about what we were really trying to do, I realized everyone was right in a deeper way. We needed to be, and finally were being, more brave and crazy.
We needed to stop worrying about all the wrong things. And start pursuing our dreams with abandon.
As we became engulfed by the Disney blogging world, we soon realized that planning a Disney trip is serious business. Apparently most families plan at least 180 days in advance.
Being brave and crazy, we did it in 30 days. After all, What is the worst that could happen if we just show up at Disney World?
Then, we learned that there are off-site resorts and Disney property resorts. Park hopper tickets. Meal plans. Fast passes. PhotoPasses. Character meal reservations. Ride, show, parade, and character appearance schedules. Fairy godmothers at Bibbidi Bobbidi Boutique. Autograph books with and without sleeves for character photos. And refillable souvenir cups.
I am an itinerary kind of girl, so we still did a fair amount of research to plan the road trip sights and stops, as well as the Disney resorts and attractions. But, being brave and crazy, we held on to the idea: What is the worst that could happen if we just show up at Disney World?
The brave-and-crazy us had only three priorities:
1. Be together.
2. Find the joy.
3. End each day exhausted but supremely happy.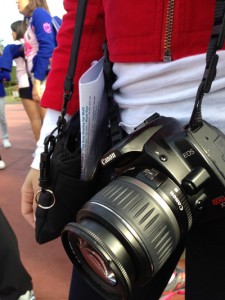 Our road trip began quietly in the predawn hours with our children still asleep in their pajamas. Once the children awoke, our jobs as pilot and flight attendant quickly became more demanding. But who can complain about little voices with such small requests: Can I have my 'pack pack'? I need a snack. I dropped my crayons. Can I have my 'pack pack' again? I need a drink.
All the while keeping their big eyes watchfully open for alligators in the swamp lands just outside their windows.
Excitement and coffee fueled our lively drive across Texas, Louisiana, Mississippi, Alabama, and finally to Pensacola, Florida.
We stopped at state welcome centers. Traveled over big bridges. Through one tunnel. Never missed a potty break. Colored in maps as we crossed borders. Observed the changing landscape. And kept an eye out for alligators.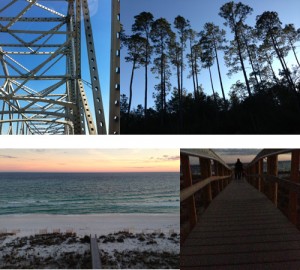 At our hotel in Pensacola, our children felt like rock stars when the front desk gave them key lanyards and the restaurant gave them every color of plastic sword toothpick. We felt like rock stars when we took a night walk barefoot on the beach.
Our hotel room was a jigsaw puzzle as we positioned one of the beds sideways, carefully guarding it with chairs, and set up a Pack N Play for baby.
We awoke to cool winds and the bluest water we had seen since our honeymoon in Hawaii more than nine years ago. The children learned that winter on the beach is different than summer. They were so excited to collect sea shells and put their toes in the fine, cold sand. We saw sand dollars and jelly fish. Walked on Pensacola Pier.
The children tried to fill their pockets with white sand.
When we were on the road again, we knew we were about to miss an American tradition. Super Bowl Sunday. On one of our rest stops, we tossed around a football between towering pine trees.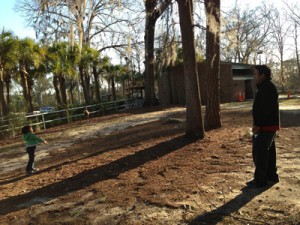 The drive to Disney World was a trip of its own. Then, there was Disney World itself.
Every moment in the parks was magical. We quickly fell into a rhythm for handling all of the logistics of caring for three young children.
Then, we squeezed in every possible ride, parade, attraction, and character appearance. We park hopped by bus, monorail, and ferry. We saw the fireworks show every night from five different locations, including our "fancy" dinner at the Grand Floridian Resort & Spa.
We savored every ounce of our children—from Baby #3 losing her shoe on the first day like Cinderella and saying "flower" for the first time at EPCOT; to Baby #2 telling Belle "Bonjour!" and falling in love with a musical figurine of Princess Jasmine and Aladdin; to Baby #1 conquering Emperor Zurg on the Buzz Lightyear Space Ranger Spin ride and laughing out loud at the Monsters, Inc. Laugh Floor comedy show.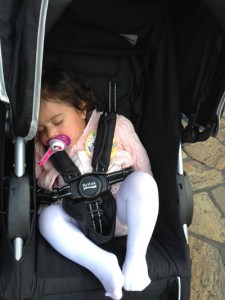 And our children savored every rare moment, as well. Like coloring alongside a real Disney animator. And winning the hearts of the entire Grand Floridian Society Orchestra. They now fall asleep to the "As Time Goes By" CD given to them by the cellist.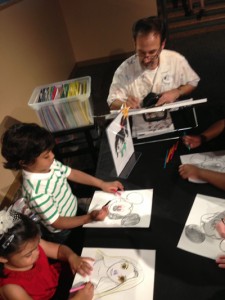 As Walt Disney says at the end of the "Celebrate the Magic" nighttime show, "I only hope that we don't lose sight of one thing—that it was all started with a mouse."
It is the simple, small, imperfect, subtle, seemingly mundane things in life that can be the most meaningful and memorable. If we only take the time.
And after six days in the happiest place on earth, we completed our brave and crazy road trip again in reverse. At Pensacola Beach on Sunday morning, we rolled up our pant legs and laughed as we played  tag with the frigid waves. In Alabama, we found ourselves in the actual route of a Mardi Gras parade. For Daddy, we found the Blow Fly Inn, which was featured on the show Diners, Drive-ins, and Dives. And Momma finally finished reading The Hunger Games during the longest nap time ever.
Disney World was amazing. Magical. But never underestimate the gravity of each and every day spent together.
Can you make your one day today? Let's chat in the comments below.
Don't miss future articles! Be sure to sign up for our RSS feed or connect on Facebook.